Global death and destruction are about to raise their ugly heads. Awake friends to the trying times we are about to enter, and prepare spiritually by knowing God's Son and His testimony... because there is hope--the hope of our returning King of kings! Rev. 1:1-3

What is the Biblical teaching concerning the future punishment of sinners? Will men, women and children suffer fiery torture for endless ages? The Scriptures paint a picture of the demise of sinners, and you might be surprised what you find when you start in the Old Testament and work your way through the New. Examine the passages and see for yourself how God will deal with sin and sinners. You will be horrified at the prospect of spending an endless eternity in eternal flames.


Pressures Leading to Middle East War, World War III, Financial


Collapse, Chaos & Holocaust



The Middle East is about to erupt, and when it does it will lead to World War III... just over 70 years since the bombing of Pearl Harbor and the beginning of World World II. This clash of the nations (Matthew 24:7) will begin with conflict between Israel and her surrounding enemies (Syria, Palestinians, Egypt, Jordan, etc.), and also a US-European-Israeli battering of Iran (the instigator of Middle East turmoil)... which will summons a Russian response, thermonuclear war and global holocaust. Particularly vulnerable to the Bear attack are three countries (horns/ribs- Daniel 7:5-8) on the Mediterranean coastline--(i.e. Greece, Italy, Spain and/or Portugal). How do we know? Prophecy gives the direction of the growing Papal power--the "little horn" (little nation--the Vatican), "started small but grew in power to the south (i.e. Italy, Spain, Portugal) and to the east (Greece) and toward the Beautiful Land" (Israel) (Daniel 8:9). These European nations are currently under financial distress and internal turmoil, and Russia will consider them wounded and vulnerable to an uprooting attack. Out of this holocaust will emerge the power-base of the Man of Sin (Antichrist), whose miraculous arrival on the global scene will be buttressed by sky events, signs and wonders; the whole world will marvel at his arrival. America's Middle-East victories will be short-lived; her (and the world's) financial collapse, devastation and fall from superpower status will be quick and decisive. No home will be left unaffected; all mankind will experience calamity and fear that the end of the ages has come... however, it will only be the "beginnings of sorrows," (Matthew 24:8).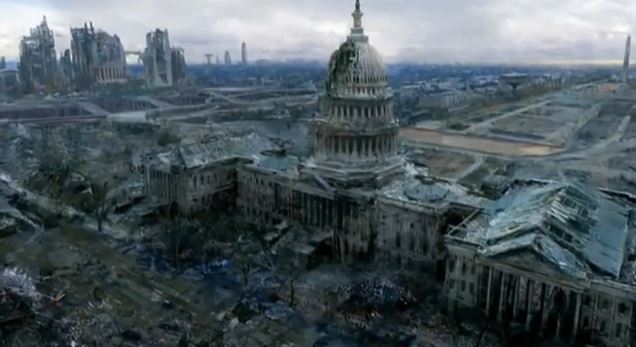 Is this where the U.S. is headed as a nation? Sadly, it seems so, according to the Hebrew prophecies.



America's Decline & Judgment
Is America ripe for judgment? Many years ago, Thomas Jefferson said: "I tremble for my country when I reflect that God is just; and that His justice cannot sleep forever." In recent decades, a pastor wrote, "If God doesn't judge America He will have to apologize to Sodom and Gomorrah!"
For an understanding of how far America's elected representatives have strayed from their constitutional duties to represent the citizens of this nation, watch/read these sources:
We The People Stimulus Package Video
The US Constitution
Ron Paul: The NDAA Repeals More Rights
Dishonorable Disclosures
Abraham Lincoln knew the source from which America's greatness came. During an address on March 30, 1863, during which he declared a day of prayer and fasting, he stated: "[I]t is the duty of nations, as well as of men, to own their dependence upon the overruling power of God and to recognize the sublime truth, announced in the Holy Scriptures and proven by all history, that those nations only are blessed whose God is the Lord …. We have been the recipients of the choicest blessings of heaven. We have been preserved, these many years, in peace and prosperity. We have grown in number, wealth and power as no other nation ever has grown: But we have forgotten God! We have forgotten the gracious Hand which preserved us in peace, and multiplied and enriched and strengthened us; and we have vainly imagined, in the deceitfulness of our hearts, that these blessings were produced by some superior wisdom and virtue of our own.
Is this where the U.S. is headed as a nation? Sadly, it seems so, according to the Hebrew prophecies.
America is in a downward spiral, and will pay the price for our sinful and stupid decisions; we are a nation in decline. States, counties and cities can no longer keep up expenses. Many streets are no longer maintained. We are in debt and nearing financial ruin; yet, the spending continues unabated. America has already undergone that "spiritual and moral disintegration," fundamentally destructive to the national fiber.
The U.S. has already undergone "moral disintegration" in the last 50 years--abortion, homosexuality, and pornography are rampant. What is bound to follow moral sin is economic collapse, the likes of which this nation has never experienced. It started with the futile unleashing of massive quantities of fed reserves (QE, followed by QE2), driving the forces of hyperinflation, and eventually debt monetization, that will bankrupt and destroy what's left of the productive sectors. America and her glorious past will come to an end, looking much like the old Weimar Republic of Germany and the old Soviet Union collapses. This is truly a unique time to be alive, in the prophetic sense.
As part of America's demise, the future may include some form of chemical, biological and/or radiological warfare with the spread of deadly epidemics (pestilences). If so, because of quarantine periods and gas shortages, the normal means of supplies (food, water, etc) would be interrupted for extended periods of time. You should, if at all possible, move out of the larger cities to a rural setting or to a smaller community as soon as possible, to secure homes and garden spots in preparation for perilous times. World news and international tensions confirm that momentous events are on the horizon, and God's Hebrew Calendar will soon to be fulfilled. Daniel's timelines will have their historic beginning, and prophetic events will become front page news.
Part of the final events is the collapse of the world economies. The dire state of affairs in the international banking system is cascading through the marketplace to our communities--to local banks, businesses and households. Former Federal Reserve Chairman Alan Greenspan warned when the collapse came in late 2008, "This is a once-in-a-century crisis." Job layoffs continue at a staggering pace, week after week. God is showing all of us our need to trust in Him, not men, money and institutions.
The world's stock markets will be artificially pumped up to higher levels, but will ultimately collapse under the pressures of global war and widespread destruction. You may wish to consider depositing funds in only strong banking institutions--rated B+ or better. Money market funds that specialize in short-term U.S. Treasury-only bills are also considered to be safe havens by some professionals.
The U.S. government is overly optimistic in fulfilling their many pledges to financial institutions and the American people: "The government is making too many promises, some of which they may not be able to keep. It's a pipedream to think the U.S. government will be able to take care of their own massive obligations and rescue the banks, and save the big brokers, and fund the FDIC, and backstop the short-term borrowing of thousands of corporations, and on top of that, save local and foreign governments," says Martin Weiss, Ph.D., founder and president of Weiss Research, Inc. I highly recommend you read his monthly Safe Money Report. However, as a warning, if you subscribe you will receive both informational and promotional emails from Money & Markets.
The American financial crisis has spilled over to Europe, Russia, Latin America and Asian markets. European and U.S. central bankers coordinated a global rate cut of epic proportions, and the worse is yet to come. The world is likely facing a systemic (total) collapse of the global financial system, and is going to give up on the dollar.
Trillion dollar bailouts will not be the answer (What does one TRILLION dollars look like?). We are several trillion in debit and growing; this overspending is bankrupting our nation. Americans need to be prepared for the U.S. default. U.S. debt will implode under the duress of the country's default and/or the dollar's dramatic devaluation. This implosion will also bring down the United Kingdom and all countries closely integrated to the U.S. economy and finance, and the allies financially over-dependent on them. However, before the ultimate economic doom of the global economies, expect the possibility that the wealthy elite could throw great sums of money back into the markets to initiate one last grand Wall Street rally. This would draw back in the investments of the unsuspecting populous, followed by the pilfering of those gains, which would lead to the greatest crash the financial system has ever seen.
August, 2012 News Update: 'This Is Going To Be A Lot Worse Than 2008' Teacher's Advice: This is a long report, and is an advertisement for services... but also an eye-opening video (no reason to purchase anything). The Dow has risen and now sits around 13,000 just as expected. Please sell and get out of the stock market as soon as possible. This warning has been offered for many years at this ministry.
To top it off, U.S. citizens may one day discover that, after a weekend or bank holiday, U.S. treasury bonds and dollars are only worth 10 percent of their value because a new dollar has been imposed. The global collapse will lead the way for the eventual mark of the beast in order to buy and sell (Revelation 13:16-17). Americans can expect riots and mayhem in the streets, and the US government is preparing for social disorder.
Only God knows if the months to follow will bring the unfolding of final events and the rise of the New World Order, but the winds of strife continue to blow and the end looks to be near.
Click to View and read
Click Contact to email us