Bearing the Testimony of Jesus Christ
and theWord of God


VICTORY BAPTIST CHURCH
"...Thou hast magnified thy word above all thy name." Psalms 138:2

Pastor Del W. Wray

<![CDATA[

To Visit Our Other Webpages Click here:
OUR WEBSITE NAVIGATIONAL MENU
THIS WEBSITE IS DEDICATED TO THE MEMORY OF MY PASTOR,
Harold Bennett Sightler, B.A., D.D., Litt.D., LL.D.
May 15, 1914-September 27, 1995
Click for way home!

OUR NEED IN THESE LAST DAYS IS BIBLE BELIEVING BIBLE LIVING CHURCHES:
The church of our day will not build His Church so we are asking for God's help.
To stop government intrusion and to reach the souls of deceived and dying men!


If the Devil's crowd can build their synagogues to Satan
God's people can certainly build their sanctuaries to Jesus Christ!
If we don't build the church, who will?



GOD'S LOVE FOR LOST SINNERS - BREATHTAKING VIDEO






Translate this page into another language by clicking.

Notice
The Scripture verses on these web pages; Slide mouse over to see popup of verses
Click for full chapter and verse rendering. Thanks to AV1611
Some servers do not use this function. We use Google Chrome works well.
<![CDATA[
HEAVEN
THE HUMAN HEART HUNGERS FOR GOD




"Ever since through sin Adam and Eve departed from Eden, sinful men and women have sought a way back to God. It is a quest perennially upspringing in the human heart. In every land, no matter what the kind or quality of worship, there is in human hearts an aching void that hungers for God. In pagan lands this quest for God is expressed in idol worship, and through varying methods, in varying degrees, wandering, sinning men and women sense a constant need for something outside of themselves, and that ultimate Something is God." B. H. Carroll

"There has been only one plan of salvation. There is only one plan now. All of the ceremonials of ancient Israel pointed to Christ. From the prophecy voiced by our Father above to the first sinning pair, "The seed of the woman shall bruise the serpent's head," on through the entire canon of Scripture, there coursed the crimson thread denoting the blood of our Redeemer. Old Testament saints looked forward to the coming Messiah, who was to be a suffering Savior. Christians contemporaneous with Jesus himself, while only vaguely realizing the lofty meaning of His life and death." From the book "Way Of The Cross" by J. W. Crowder, A.B. D.D.



Established and Founded



Victory Bible Baptist Church
Where the King James Bible is preached and held in Honor!
God the Father is worshipped,
Jesus Christ, God the Son is Lord and Saviour!
The Holy Spirit, God is present in His office work as Teacher,
The Holy Scriptures (KJV) is the final authority when it comes to faith and practice.
Where all members are co-equal in Christ, as the salt of the earth, bearing His testimony.

This site is purely informational, extensive and exhaustive in biblical truth.




This is an Authorized King James Version (Bible) 1611
ONLY
Site




Del Wray, Pastor - Independent King James Bible Believing Baptist Church
50 years Planting and Promoting Bible Believing Baptist Churches
Location: Southern Maryland on the Delmarva Peninsula
Home of Victory Baptist Academy - Home School Supervision
30195 Rehobeth Road - Marion Station, MD 21838-2213
Phones: 410-623-2391
Personal Cell: 410-422-6350
Mobile: 443-754-1154

"Hated by men but loved by God"
"Within this wondrous volume lies
The mystery of mysteries;
Happiest they of human race
To whom their God has given grace
To read, to fear, to hope, to pray,
To lift the latch, to find the way;
And better had they ne'er been born
Who read to doubt, or read to scorn."
Sir Walter Scott


Why, we are not just another church.
See 'LAST SECTION'


We are Independent Bible believing Baptists.
We uplift, and honor the King James Bible, this is our very life's existence.
We stand for and support only the local New Testament Baptist Church.
We abhor and do not believe in the "invisible," "electronic" church.
We are not and never have been Protestant or Reformed.





See Last Section end of this Page




Web Design, by David D. & John J. Wray
Del W. Wray sole owner, responsible for all website content.
Your comments positive or negative are welcome!
Pastor's Personal Contact Information
Pastor, Evangelist, Missionary and Church Builder.    
30195 Rehobeth Road
Marion Station, MD 21838-2213
Home: 410-422-4530
Personal Cell: 410-422-4530
Mobile: 410-251-9348


Click to send us an email!
"If a man love me he will keep my words....."
  John 14:23
"PREACHING WITH A VOICE OF THUNDER
AND HEART OF TEARS"
"Contrary to what his critics and enemies say about him, My dad is a kind, generous, compassionate and Spirit-filled man. I have seen him weep over the lost and downtrodden. He has led our church to feed many of the poor, hungry people. I've witnessed on many occasions when he would give needy people his last dollar. On the other hand, he courageously and aggressively exposes the evils in our government, social evils, religious racketeers, charlatans, liberal professors in our Christian colleges, schools, denominations and deceivers who teach heresies. At times his methods are objectionable to some people who do not agree with his strong Biblical views. That's nothing new. Christ's critics and enemies tried on several occasions to kill Him and finally succeeded at Calvary. The same was true of Stephen, Paul, the Apostles, the true prophets of Israel, the martyrs, and faithful men and women of God in the Bible." David D. Wray

Welcome to the official web site of Victory Bible Baptist Church of Southern, Maryland. Since 1970 it has been our honor to send forth the truths of God's Word, to exalt the the precious name of our great God and Saviour the Lord Jesus Christ and to build up His local Baptist Church. Please understand that this is an informative site, not an entertainment site, so we will not attempt to impress you with professional mechanism's found on many other sites. We'd love to minister to you with the word of God, but we have no interest in entertaining or impressing you. As you read through our site, please bear in mind that we minister from a Bible-believing standpoint, not from a politically correct standpoint. Political correctness is a tool of communism, socialism, liberalism, and globalism, and it has no place in the life of a true Christian. We do not seek to offend any person, but most of all we do not want to offend God by compromising Bible truth either. If you are offended by something on this site, you probably need to repent, not complain.

This site is not a debate forum. It exists for those who want to read godly Baptist material, books, and sermons, etc. If you delight in arguing, there are many sites out there to accommodate you, but this isn't one of them. Our ministry and defense of the King James Bible keeps us very busy, and we have no time for foolish debates.

As for sincere questions, we always welcome them and we do our best to help as many people as we can. So look around, read to your heart's content, print out anything you need, and feel free to contact us if we can be of any assistance to you.


Click to send us an email!
"My son, if thou wilt receive my words, and hide my commandments with thee; So that thou incline thine ear unto wisdom, and apply thine heart to understanding; Yea, if thou criest after knowledge, and liftest up thy voice for understanding; If thou seekest her as silver, and searchest for her as for hid treasures; Then shalt thou understand the fear of the LORD, and find the knowledge of God." Proverbs 2:1-5
Pastor Del W. Wray
THE MISSION AND GOAL OF THIS SITE IS TO BE INFORMATIVE
AND TO CHALLENGE ALL WITH THE TRUTH OF GOD'S WORD THROUGH:
1. Teaching the sufficiency of Christ. That He can save all that come to God by Him.
2. Preaching the gospel to every creature.  (Mark 16:16)
3. Strengthening those who are saved that they may grow further in the grace and knowledge of God.
(2 Timothy 3:16)
4. Presenting the Biblical View, and showing how the Bible is God's relevant Word for modern man.
The Bible still speaks clearly about the issues of our times. (Joel 1:3)
5. We are unashamed in our belief that God's Word is the final authority in all matters of faith and practice.
(Hebrews 4:12)
 Opposing: Abortion, Homosexuality, Same Sex Marriage, Race Mixing ...!!!
All Cardinal sins and crimes against God! No matter what the government says!

  Exposing: The End Days Apostasy, Roman Catholicism and Islam ...!!!
Criminals and sinners against the government of God and His Bible!
God's WARNING to America, America's Coming Destruction

Move cursor over to stop!




Through the Tolerance of Sin America is Damned!



AMERICA TOLERATES EVERYTHING EXCEPT GOD.





America has crossed God's line of demarcation!
Certain wrath is being stored up for this nation and it's ungodly leaders!




WHO WILL GO TO AMERICA?

(We desperately need missionaries to come to America, because our Godless culture is more pagan,
savage and evil than any primitive barbarian society.)

"Who will rise up for me against the evildoers? or who will stand up for me against the workers of iniquity?"
Psalms 94:16



Click
Read Why God has turned His back on America!




"Heavenly Father, we come before you today to ask your forgiveness and to seek your direction and guidance.
We know Your Word says, 'Woe to those who call evil good,' but that is exactly what we have done...
We have lost our spiritual equilibrium and reversed our values.
We confess that we have ridiculed the absolute truth of Your Word and call it Pluralism.
We have exploited the poor and called it the lottery.
We have rewarded laziness and called it welfare.
We have killed our unborn and called it choice.
We have shot abortionists and called it justifiable.
We have neglected to discipline our children and called it building self esteem.
We have abused power and called it politics.
We have coveted our neighbor's possessions and called it ambition.
We have polluted the air with profanity and pornography and called it freedom of expression.
We have ridiculed the time-honored values of our forefathers and called it enlightenment.
Search us, Oh, God, and know our hearts today; cleanse us from every sin and set us free. Amen!"
(Prayer prayed in the Kansas State Senate)





The Last Straw,
America has gone into darkness and signed her own death certificate
with the legalization of Sodomy and the Sodomites!
Click each article separately!
America Needs Voices Crying Out
Sins of American People
Apologizing to God for America's Sins


Loosing Our American Freedoms





SODOMIZING AMERICA


Sodomites - are recruiters, they can not reproduce or bear children! To reproduce
they will recruit your children, if that doesn't work they will sodomize them
and if necessary terminate them! Already legalized in the U S A
"If the Murderer is not put to death, Society will be put to death by the Murderer!"
"If the Sodomite is not put to death, the sodomite will sodomize America and put her to death!"
"If a man also lie with mankind, as he lieth with a woman, both of them have committed an abomination:
they shall surely be put to death; their blood shall be upon them." Lev. 20:13 Jesus Christ




THE BETRAYAL OF AMERICA


"For generations the Bible has warned of the coming End of Days,
and you are now living in that time.
America, a nation raised up by the hand of God to spread the gospel
and to be a beacon of Freedom for people around the world
is about to be forever silenced by those sworn to protect her... her leaders."
America is now in the hands of a - reprobate government and military.
The military leaders have already boasted they are going to drive the Christians out!
When war comes who are they going to pray to, Baal?



"Abortion, America's greatest crime is nothing more than murder,
legalized cannibalism and child molestation.
The legalization of Sin.
The act of playing God."
AMERICA IS ON IT'S WAY TO A DEEP DEPRESSION
THAT WILL LEAD TO IT'S ULTIMATE DESTRUCTION.
FOR FORSAKING AND TURNING IT'S BACK ON GOD AND HIS WORD
TO SURVIVE WE MUST RETURN TO THE GOD OF THE BIBLE!
THE LORD JESUS CHRIST!
"This is the Book [the King James Bible] that makes great men, great homes, and a great nation. It's been voted out of the school, kicked out of the homes, and misused in the Church; but look at the shape we're in tonight." —Brother Lester Roloff (1914-1982)
Old-fashion, Spirit-filled, Christ-honoring, Sin-hating, Soul-winning, Hell-fire & brimstone, Bible preaching! It is the only hope of the Church! It is the only hope of the family! It is the only hope of the nation! It is the only hope of the world!" Pastor Jack Hyles (1926-2001)



delwray1943@gmail.com



Every Person is a Soul for whom Christ died!
Click to sign our
"Men hate the Bible because it reveals the destruction of the United States and that of every nation in the UN Leaving Israel as the world's superpower!"
WARNING! This DOMAIN could be an inflammatory WEB SITE for many reasons. Depending on whether you believe the Bible or not. If you start to feel anger coming on, get away from your computer, take a few deep breaths and ask yourself: " What is wrong with me?" "Do I really believe God's Word?"
Click and read first!
         WARNING
This Domain is straight forward and truthful! We don't question God's Word!
Psalms 119:165 "Great peace have they which love Thy Law and nothing shall offend them."

There is a great deal of information on this website about many different topics. A lot of it you might disagree with at first, and maybe for some time, but when you read the Word of God as an obedient child, personally applying it to your life. You'll find, He'll help you understand the events surrounding all of us today, and the great deception and apostasy we have all been living under in these last dark days. The close of this laodicean church age is upon us!
"CONSCIENCE THE HOUND OF HELL"
Conscience in man says: "Thou shalt," and "Thou shalt not," "I ought," and "I ought not." These mandates are not self-imposed. They imply the existence of a Moral Governor to whom we are responsible. Conscience,--there it is in the breast of man, an ideal Moses thundering from an invisible Sinai the Law of a holy Judge. "Were it not for the voice speaking so clearly in my conscience and my heart, I should be an atheist, or a pantheist, when I looked into the world." Some things are wrong, others right: love is right, hatred is wrong. Nor is a thing right because it pleases, or wrong because it displeases. Where did we get this standard of right and wrong? Morality is obligatory, not optional. Who made it obligatory? Who has a right to command my life? We must believe that there is a God, or believe that the very root of our nature is a lie.
Click and read:
Samuel Howard Ford --- Author of Baptist History "Baptists! the flag that floats over you is that of Jesus only; the principles that govern you have the authority of Jesus only; the ordinances which distinguish you have the example of Jesus only; and the founder of your churches is Jesus only. Let deep devotion be yours. Let earnest zeal be yours. Let the spirit that animated to deeds of valor and endurance our noble and martyred ancestors be yours. Let us move in harmony, and fight on manfully and wear the armor constantly, and soon the songs of the angels will announce the advent of the era when the kingdoms of this world shall become the kingdoms of our God and of His Christ, and He shall reign forever and ever."
Charles Hadden Spurgeon --- Spurgeon's Contribution to the Baptist "We believe that the Baptists are the original Christians. We did not commence our existence at the reformation, we were reformers before Luther and Calvin were born; we never came from the Church of Rome, for we were never in it, but we have an unbroken line up to the apostles themselves. We have always existed from the days of Christ, and our principles, sometimes veiled and forgotten, like a river which may travel under ground for a little season, have always had honest and holy adherents. Persecuted alike by Romanists and Protestants of almost every sect, yet there has never existed a Government holding Baptist principles which persecuted others; nor, I believe, any body of Baptists ever held it to be right to put the consciences of others under the control of man. We have ever been ready to suffer, as our martyrologies will prove, but we are not ready to accept any help from the State, to prostitute the purity of the Bride of Christ to any alliance with Government, and we will never make the Church, although the Queen, the despot over the consciences of men."

"Spurgeon On Catholicism: Geese in Their Hoods"

What Spurgeon thought of Roman Catholicism

"We must fight the Lord's battles against this giant error, whichever shape it takes; and so must we do with every error that pollutes the church! We must have no truce, no treaty with Rome. War! War to the knife with her! Peace there cannot be. She cannot have peace with us - we cannot have peace with her. She hates the true Church; and we can only say that the hatred is reciprocated. We would not lay a hand upon her priests; we would not touch a hair of their heads. Let them be free: but their doctrine we would destroy from the face of the earth as the doctrine of devils. So let it perish, O God, and let that evil thing become as the fat of lambs. Into smoke let it consume: yea, into smoke let it consume away.

We must fight the Lord's battles against this giant error, whichever shape it takes; and so must we do with every error that pollutes the church. Slay it utterly; let none escape. "Fight the Lord's battles." Even though it be an error that is in the Evangelical Church, yet must we smite it. I love all those who love the Lord Jesus Christ; but, nevertheless, I cannot have any truce, any treaty with divers errors that have crept into the church, nor would I have you regard them with complacency. We are one in Christ; let us be friends with one another; but let us never be friends with one another's error.

If I be wrong, rebuke me sternly; I can bear it, and bear it cheerfully; and if ye be wrong, expect the like measure from me, and neither peace nor parley with your mistakes. Let us all be true to one another, and true to Christ; and as soon as we perceive an error, though it be but as the shadow of one, let us root it out and drive it from us, lest it plague the whole body, and put leprosy into the entire fabric of the church. No peace with sin, no peace with falsehood. War, war, war without deliberation: war for ever with error and deceit!"
Dr. Peter Sturges Ruckman --- Baptist Preacher of Preachers "The Holy Bible (KJB) is a sacred book by which we live and have our being. On at least seven occasions the Bible clearly states that in every period of history in the story of mankind ends in apostasy (Gen. 3, 6, 11; Exodus 15; Judges 24; Jeremiah 52; Matthew 24) Fundamentalist all over the country have become and are quickly becoming, apostate forsaking the Word of God for the counterfeits of Antichrist. " The Word of God warns us in Jude "....to earnestly contend for the faith...." and to combat and expose this diabolical program of Satan. Paul in Ephesians ".... rather reprove them." So many in these latter times have departed from the faith, giving heed to seducing spirits, and doctrines of devils; so many have turned away their ears from the truth and turned unto fables; scattering broadcast the seeds of fatal error, directly affecting the honor of our Lord Jesus Christ and the destiny of the soul."
The Last Days a Period of False Religions and Cults
You will find a list of cults and false teachers on this website. Certainly, I don't propose to publish the entire list. My purpose is to admonish truth seekers and exhort God's people to desire decernment and knowledge in obedience to the Word of God! Still I'm not saying that these are bad people or that I hate them, I do not. On the contrary, I love them in the name of our Lord Jesus Christ and hope by exposing their error to win them over to the saving knowledge of the Lord Jesus Christ and Him alone.These folks, organizations do much good in society helping people, and I'm not denying that. I do deny that they are leading people to the truth and to Jesus Christ for their salvation, alone. I respect all of these people and they each certainly have a right to their own beliefs and religion. And, I certainly would not raise my hand against any of those persons. As all of these false institutions have done, martyring and murdering many of my Bible believing ancestors, in the past. Yet at the same time I have a right as a "child of God" to warn others against false teachers and false religions. In fact I have been commanded to do so from the Word of God. Much harm has been brought upon the true church of Jesus Christ by their counterfeit teachings. As Jesus Christ for warned us, we are now living in the end time apostasy. Click below and find out for yourself! Pastor Del Wray
William Tyndale "God's Outlaw"
martyred by the Church of Rome for translating the Word of God into the language of English-speaking people.
"I call God to record against the day we shall appear before our Lord Jesus Christ to give a reckoning of our doings that I never altered one syllable of God's Word against my conscience."
William Tyndall
2Timothy. 4:1-4 "I charge thee therefore before God, and the Lord Jesus Christ, who shall judge the quick and the dead at his appearing and his kingdom; Preach the word; be instant in season, out of season; reprove, rebuke, exhort with all long suffering and doctrine. For the time will come when they will not endure sound doctrine; but after their own lusts shall they heap to themselves teachers, having itching ears; And they shall turn away their ears from the truth, and shall be turned unto fables."

Ephesians 5:11-16 "And have no fellowship with the unfruitful works of darkness, but rather reprove them. For it is a shame to even speak of those things which are done of them in secret. But all things that are reproved are made manifest by the light: for whatsoever doth make manifest is light. Wherefore he saith, Awake thou that sleepest, and arise from the dead, and Christ shall give thee light. See then that ye walk circumspectly, not as fools, but as wise, Redeeming the time, because the days are evil."
CHRIST DIED FOR THE UNGODLY
"It's hard to believe that someone would die in the place of a good man, but Christ went the extra mile and "died for the ungodly." Romans 5:6-10 And that is exactly the point of God's love. That sin and ungodliness were so repulsive to God. That He would rather die than let us keep living like that. That Hell was so horrible that He rather die than let us go there."

Click each article separately!
Are you good enough to go to Heaven?>
Your Free Gift
Diety of Christ
Freedom and God's Plan for Your Salvation
Biblical Mandate for Parent's Teaching Their Children
Biblical Reasons to Homeschool
God Loves You
What is Heaven Like
How to Know Christ
Don't Mess With Moma In defense of the King James Bible
What It Is To Be Saved by John Bunyan
A Brief Survey of Independent Fundamental Baptist Churches
NO RELIGION AND NO OTHER PERSON BUT JESUS CHRIST OF THE BIBLE CAN SAVE ANYONE!!!
The Only Alternative is a Devil's Hell forever and Ever!!!
TESTIMONY OF CONVERSION Japanese Pilot who led the attack on Pearl Harbor
Please read the true account of Pearl Harbor and the Japanese pilot who led the attack. He was saved, converted to Christ and became an American citizen in 1960. This is the true account of one man's war against the hatred in the human heart.


"When a man who is honestly mistaken
hears the truth, he will either quit being mistaken
or cease to be honest!"
"It is a bad sign when being a Christian
is seen as a mark of respectability
in the eyes of sinful society."
Help with Bearing Testimony by David Stewart
"The wicked shall be turned into hell and all the nations that forget God." Psalms 9:17

"And I will punish the world for their evil, and the wicked for their iniquity; and I will cause the arrogance of the proud to cease, and will lay low the haughtiness of the terrible." Isaiah 11:13



Disclaimer:
Some of the resources on this site are local to this server and have been carefully reviewed before posting. Other resources include links to www sites which may or may not be entirely consistent with the Doctrinal Statement (i.e., Bible Versions, Biblical Separation, Creation, etc.) for this page. They are provided for your reference and individual consideration. In all things,
Victory Bible Baptist Church uses articles taken from a variety of publications, and written by many different authors. Please realize that this does not necessarily mean we agree with the doctrinal position of the publication or the author of the article, but that the particular article represents a scriptural truth we do agree with. We would like to recognize and thank Brother E. L. Bynum, now Pastor Emeritus of the Tabernacle Baptist Church in Lubbock, Texas, and former editor of the Plains Baptist Challenger. Some of the articles listed here were either written by Brother Bynum, or were taken out of the Challenger. There are getting to be fewer and fewer men that will take the firm strong stand that he does on the Historical Baptist Position and we thank God for him. Brother Bynum did not ask for this credit, but we thought we should give it because it is due him. Many of our articles are out of original good solid Baptist books and collections from the 18th and 19th centuries. Pastor Del Wray
While I may not agree with all the contents and philosophies of the source sites that are linked here on this site, I am truly thankful that these materials are made available.

Here on these pages are links to great volumes that contain the story of our Baptist heritage. Stories of our forefathers in faith and doctrine, many which paid a dear price for the things we take so lightly these days. To read all of this material would take many, many hours. I must confess, I still have much yet to read myself! The work below is not mine, it only took me the time to find the material and format the web pages. I am thankful for the source sites that posted the books and writings. I am thankful for the lives and testimonies of my predecessors of the faith. Finally, I am most thankful for my Lord and Savior Jesus Christ, that loved me, drew me to Himself, and saved my soul! I pray the writings on these pages will be a challenge and encouragement to all that read them! Pastor Del Wray


"Hold fast the form of sound words, which thou hast heard of me,
in faith and love which is in Christ Jesus."
2Tim. 1:13
ATTENTION: COMING FROM OTHER WEBSITES
You must use either the TAB or BACK ARROW button on your browser
if you wish to return to this page,
as there are NO navigational links.


Victory Bible Baptist Church
does not support, endorse nor condone violence against any group, persons or individual!
Only in cases of self defense of ones person or ones personal property and the defenseless.
  TEN SUGGESTED DOCUMENTS TO READ - Documents highly recommended by Del Wray, Pastor  
This site is quite extensive and holds a vast treasure of Bible truth.
To help navigate it's domain a search engine has been provided.
THIS IS AN EXCELLENT WAY TO SEARCH SITE


THERE IS NO HATE, MALICE, RACISM, ETC. ON THIS SITE.
THESE ARE SINS IN THE EYES OF GOD AND HIS CHILDREN,
AND ARE ALSO DEMONIC.
THE BIBLE MAKES IT CLEAR THAT SIN CANNOT GET INTO HEAVEN.
About This Site:
This website is a ministry of the Lord Jesus Christ, and His unworthy servant Del Wray.
Along with the many believers at Victory Bible Baptist Church
Resulting from the influence of His Holy Spirit, many other believers,
and especially,Tabernacle Baptist Church and it's pastor,
Dr. Harold B. Sightler, Greenville, SC.




WE WELCOME ALL OUR VISITORS
What Does The Bible Say About Guns And Self Defense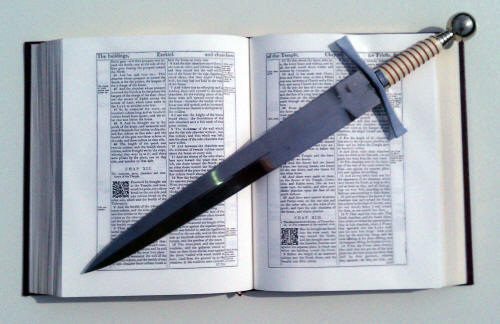 Can A Christian Use A Gun IN Self Defense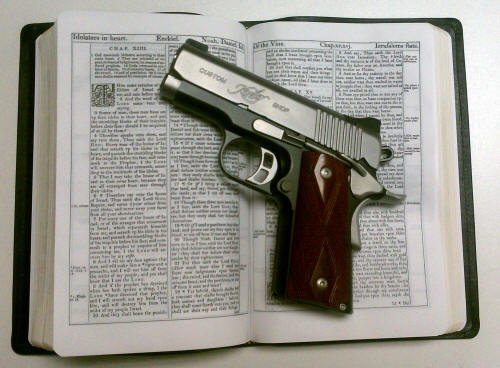 This web site is solely owned and operated by Del W. Wray
Pastor Victory Bible Baptist Church
who alone is responsible for its content.
Last Section

We are not just another church.
Why we are not just another church or another denomination:
To understand why we are not some other church, denomination, religion or faith - We must first understand what we believe - At least the core beliefs - Held thru the centuries!

As far as the Christian religion is concerned, all but two of the denominations that are known today had their beginning in the last four hundred years. Only two denominations of faith can trace their roots all the way back to the NT times - One is Catholicism - The church from Rome started from real Baptist churches. Beginning around the 200s heresy began to creep in - they began perverting the Scriptures and by 350 A.D. they became fully apostate (Ceased to be truly Biblical or possibly even Christian). The other branch is the Baptist - historical Biblical Baptist - Not the Freewill Baptist (they were an off shoot of the Protestants)

Every other denomination that is known today, had its beginning in the last four hundred years. Everyone of the them - whether it be the Church of Christ; the Church of England, Anglican; the Lutheran; Presbyterian; Methodist; Episcopal; Church of God; Christian Church and right down through the line - who have all claimed to have the only correct doctrine - this raise some serious question. If their doctrine is the only correct doctrine - why were they only recently established? Was the Biblical truth not known before that time? - Gee I wander how people got saved before they were established - A legitimate question to ask these other groups - But yet we know people have continued to be saved, long before.

The roots of the Baptist can be traced back to apostolic times, not just by Baptist, but by the enemies of the Baptists - Historians testify that "local churches: which hold doctrine, beliefs, and practices of today's Bible believing, separatist Baptist; have had a continuous existence since the days of Christ. This can not be said of any other church, churches, or religious organization."

Here are a few statements by historians and religious leaders (only one of them a Baptist): These are people who have no particular sympathy for the Baptist:

Sir Isaac Newton said, "The Baptist are the only body of known Christians that have never symbolized with Rome."

Ypeij and Dermount, eminent historians of the Dutch Reformed Church said, "The Baptist may be considered as the only Christian community that has stood since the days of the Apostles, and as a Christian society has preserved pure the doctrine of the Gospel through all the ages."

Alexander Campbell, founder of the Campbellites / Church of Christ who rigulously opposed Baptist during the 19th century, wrote, "The sentiment of Baptist and their practice of Baptism from the Apostolic age to the present have had a continued chain of advent and public monuments of their existence in every century can be produced."

Robert Barkley a Quaker historian says "We shall afterwards show that the rise of the Anna-Baptist took place prior to the reformation of the Church of England and there are also reasons for believing that the continent of Europe small hidden Christian societies who have held many of the opinions of the Anna-Baptist have existed from the times of the Apostles. In the since of the direct transmission of Divine truth and the true nature of spiritual religion it seems probable that these church have a lineage or succession more ancient than that the Roman church. All Christian were then Baptist."

John Clark Rippath said "I should not readily admit that there was a Baptist church as far back as 100 A.D. Although without doubt there were Baptist Churches then, as all Christian were then Baptist."

Mosheim said "Before the rise of the Lutheran, Calvin, there lay secreted in almost all of the countries of Europe persons who adhered tenacious to the principle to the modern Dutch Baptist. The origin of Baptist is lost in the remote depths of antiquity, the first century was a history of Baptist."

Zwingli said, "An institution of the Ana-Baptist is no novelty, but for thirteen hundred years has caused great trouble in the church (the Catholic and Presbertirian) Baptist are known as trouble makers because we hold to the purity of doctrine of the NT and we don't apologize for it - If you spend any time witnessing you've witnessed it."

Catholic Cardinal Hoseios President of counsel of Trent from 1545 - 1564 said, "were it not for the fact that the Baptist have been grievously tormented and cut off with the knife during the past 1200 years, they would swarm greater than all the Reformers. If the truth of religion were to be judged by the readiness and boldness of which a man or any sect shows in suffering, than the opinion and persuasions of no sect can be truer and surer than those of the Anna-Baptist. Since there have been none for the 1200 years past that have been more generally punished or have been more cheerfully and steadfastly undergone and have offered themselves in the most cruel sort of punishment than these people."

It is unlikely that the Reformers stumbled upon the great truth of "justification by faith" on their own - these were men who were well aware of Anna-Baptist. If they were not directly involved with some of the tortures, they certainly witnessed the testimonies of those people as they were tortured and died. It is more likely that the Holy Spirit used it and worked in their hearts as they studied the Word of God and they concluded that what the Anna-Baptist were saying was true.

Baptist Christians must understand why they believe what they believe, then they will see the error of the other denominations and religions as such. We believe that God has maintained a church in every age that has held to the pure doctrine of the Scripture. History shows that it is the Baptist. Spurgeon said, "history has hitherto been written by our enemies, who never would have kept a single fact about us upon record if they could have helped it. And yet it leaks out every now and then that certain poor people called Anna Baptist - Anna-Baptist a name given to the Baptist before the sixteenth century. "Anna" means again - but the entire name was applied what Bible believing separatist Baptist do today. They were brought for condemnation ... heretics who were hated of all men for the true sake that was in them ... burned for the crime of Anna-Baptistism ... were protesting for the one Lord, one faith, one baptism. No sooner did the visible church begin to depart from the Gospel than these men arose to keep fast then by the good old way ... calling men to the errors of their ways ... our histories forbid discouragements."

We know that the Baptist were very much involved in the founding of this nation - especially as to religious freedom. Those Baptist founding Fathers understood this, given the freedom of the gospel of grace some people might be saved - we have a superior message that changes life. Through the history of Baptist the enemy (Satan) has always tried to coerce and hold down and stifle the true preaching of the Word of God - Given the opportunity through the reasoning of the Scriptures, God will have the victory.

Baptist Perpetuity (Permanence)

I. The Origin and History of the Baptist:

A. Origin: Started with Jesus (Not at Pentecost as many have been taught) Mark 3:14-18 - This is a principle - the church began right here - You see all the mixture that establishes a church, the head Jesus Christ; a called out assembly; a treasure is appoint; they sent out to preach; (the church didn't start at either Matt 28 or Acts 2) to establish and organized them into His church.

1. Forerunner was John the Baptist (Luke 3:1-4).
2. Jesus Christ

B. History:

1. Baptist can be easier traced by blood than by baptism.

2. They were named by their enemies - Anabaptist from infant baptism).
a. Montanists
b. Novations
c. Donatists
d. Paulicians
e. Albigigenses
f. Paterins
g. Petrobrussians
h. Henricians
i. Arnoldists
j. Waldenses
k. Anabaptist

3. Baptist (in England before the Reformation)

C. Sources of History

1. Trail of Blood - J.M. Carroll
2. Baptist Church Perpetuity or History - W.A. Jarrell
3. A History of the Baptist - Armitage (Classic)

II. Distinctive:

A. Doctrinal.

1. The Bible is the complete Word of God (the final authority for faith and practice) Matt. 24:35; Rev 22:18-19.
2. Salvation is thru Christ alone. Eph. 2:5-8; Acts 4:12; Rom. 5:1-8
3. Assurance of salvation now - Eternal Security. 1 John 3:2
4. Jesus Christ
a. He is God - Deity of Christ (1 Tim. 3:16).
b. He arose bodily from the dead - The Resurrection (Luke 24:39).
c. He is coming back literally - The Second Coming (Acts 1:11).

B. Organizational

1. Christ the author, originator, and Head of the Church (Matt. 16:18; Col. 1:18).
2. Two kinds of officers and only two - Pastors and Deacons (1 Tim. 3:1-13).
3. Only the saved are to be received as members (Acts 2:47; Eph. 2:21; 1 Pet. 2:5).
4. Churches in their governments & discipline to be entirely separate and independent of each other (Matt. 16:18; Rev. 22:16).
5. It's polity - Congregational - all members are equal (Matt. 20:24).
6. Two ordinances and only two - Baptism and the Lord's Supper - They are memorial only (Matt. 28:19-20).
7. The inspired Scriptures to be the only guide of faith and practice for the church organization (2 Tim. 3:15-17).
8. The churches to be executive only in carrying out the Lord's commands, never legislative - to make new ones (Matt. 16:18; Col. 1:18).
9. Converts to be made purely voluntarily or through persuasion; never physical or governmental compulsion (Rom. 10:13).
10. Complete separation of Church and State - In their respective administrations - "Religious Liberty" (Matt. 22:21).

Pastor Del W. Wray
It is our prayer that this site will be a spiritual blessing
to all of it's visitors!!!





The End is Here! The Choices are Clear!

Are you ready? Jesus is

Click COMING


JESUS CHRIST is ALMOST here. HE is even at the door.
Jesus said, "If a man love Me, he will keep My Words" John 14:23

Love Him with all your heart, mind, and soul.
"The end of all things is at hand: be ye therefore sober,
and watch unto prayer" 1Peter 4:7

"Let the Heavens rejoice, and let the Earth be glad; let the sea roar, and the fulness thereof... FOR HE COMETH, FOR HE COMETH TO JUDGE THE EARTH: He shall judge the world with righteousness, and the people with His Truth" Psalms 96:11
SIGNS OF THE TIMES

Articles:...
Who is going to hell?
What is the difference between heaven and hell?
Is Hell mentioned in the Bible?
What happens in hell?
Does Hell exist?
What is hell?
Cults and False Religions
Click to read!
Anti-Christian Unscientific Cult, The
Devout Practices
Errors of Mormonism, The
Facts Jehovah's Witnesses WILL NOT TELL YOU When Calling at Your Door
False Religion of Islam, The
Importance of Definitions in Dealing with Mormons, The
Jehovah Witnesses: Inconsistent in Translating, The
Promise Keepers vs. Biblical Salvation
Prophecies of the Watchtower Society of Jehovah's Witnesses
Scientology
Seventh Day Adventist Error
Ten Reasons To Beware of Promise Keepers
Ten Reasons Why Not To Be A Mormon (Latter-Day Saint)
Those Dangerous Mormon Teachers
Truth About Jihad and the Taliban, The
What About Freemasonry?
What Do the Moonies (Unification Church) Teach?
What is Jihad in the Qur'an?
World Church by the Year 2000?, A
A Solemn Warning

By Edward F Hills

"In regard to Bible versions many contemporary Christians are behaving like spoiled and rebellious children. They want a Bible version that pleases them no matter whether it pleases God or not. 'We want a Bible version in our own idiom,' they clamor. 'We want a Bible that talks to us in the same way in which we talk to our friends over the telephone. We want an informal God, no better educated than ourselves, with a limited vocabulary and a taste for modern slang.' And having thus registered their preference, they go their several ways. Some of them unite with the modernists in using the R.S.V. or N.E.B. Others deem the N.A.S.V. or the N.I.V. more evangelical. Still others opt for the T.E.V. or the Living Bible.

But God is bigger than you are dear friend, and the Bible version which you must use is not a matter for you to decide according to your whims and prejudices. It has already been decided for you by the workings of God's special providence. If you ignore this providence and choose to adopt one of the modern versions, you will be taking the first step in the logic of unbelief. For the arguments which you must use to justify your choice are the same arguments which unbelievers use to justify theirs, the same method. If you adopt one of these modern versions, you must adopt the naturalistic New Testament textual criticism upon which it rests. In other words, naturalistic textual criticism regards the special, providential preservation of the Scriptures as of no importance for the study of the New Testament text. But if we concede this, then it follows that the infallible inspiration of the Scriptures is likewise unimportant. For why is it important that God should infallibly inspire the Scriptures, if it is not important that He should preserve them by His special providence?

Where, oh where, dear brother or sister, did you ever get the idea that it is up to you to decide which Bible version you will receive as God's holy Word? As long as you harbour this false notion, you are little better than an unbeliever. As long as you cherish this erroneous opinion, you are entirely on your own. For you the Bible has no authority, only that which your rebellious reason deigns to give it. For you there is no comfort, no assurance of faith. Cast off, therefore, this carnal mind that leads to death! Put on the spiritual mind that leads to life and peace! Receive by faith the true Text of God's Holy Word, which has been preserved down through the ages by His special providence and now is found in the Masoretic Hebrew text, the Greek Textus Receptus, and the King James Version and other faithful translations."


(Unbelievers today in liberal and former Fundamentalist colleges and seminaries ridicule the King James Greek (Textus Receptus) because they deceitfully claim that it is based on the Greek Text of Erasmus who was a Catholic priest. Either they are too ignorant or too dishonest to tell the truth. To repeat, Erasmus published five editions of his Greek Text. Robert Stephanus published a slightly revised edition of the Erasmus Greek Text in 1551. Theodore Beza published several editions of that Greek Text and his 5th edition of 1598 became the basis of the King James New Testament. Actually it was the Erasmus, Stephanus, Beza Greek Text, which later became known as the Textus Receptus (Latin for Received Text) that the King James Translators used.) From the beginning, a ferocious battle has raged between God and Satan over the Bible. Satan knows that if he can get us to doubt the Bible we actually doubt our Lord Jesus Christ. No one, absolutely no one, can believe in Jesus and doubt the Bible! If we doubt the Bible, we actually doubt Jesus, because without an infallible Bible, we don't have an infallible Saviour! This is why Satan has worked tirelessly to get men to destroy it, to corrupt it, and to disobey it. And his diabolical efforts have been greater in the 20th Century than all other centuries combined.


There are atleast 21 different translations of the King James Greek, Textus Receptus, Latin for the Received Text or Authorized Version Bible. Click and read!


About This Website
The world is going to Hell, plain and simple. As a born again Christian, I find it increasingly difficult to enjoy life or be happy, when I know that 98% of the people in this world are going to Hell when they die. I find myself increasingly compelled to do more to reach people for Jesus Christ. Jesus clearly stated in Matthew 7:13-14...

"Enter ye in at the strait gate: for wide is the gate, and broad is the way, that leadeth to destruction, and many there be which go in there at: Because strait is the gate, and narrow is the way, which leadeth unto life, and few there be that find it."

Tragically, most people are not going to Heaven; but, to Hell fire. Why? Jesus proclaimed in John 14:6... "I am the way, the truth, and the life: no man cometh unto the Father, but by me."

The Word of God is adamant that there is only one way to Heaven—through Jesus Christ. My friend, if you believe that Jesus is the Christ, the only begotten Son of God Who died, was buried and rose again for your sins, and you've made that your hope for Heaven by believing on His name, then you are a born-again child of God.

Sadly, most people have religion without truth, churchianity without Christianity. Religion is the worst thing that ever happened to this world. With all the thousands of false religions, Satanic deceptions, and false prophets in the world—it is not surprising that so many lost sinners are Hell-bound for an eternity of suffering.

People respond differently when presented with the gospel message of Jesus Christ crucified, buried and rose. To the one we are the smell of death; to the other, the fragrance of life...

2nd Corinthians 2:15-17, "For we are unto God a sweet savour of Christ, in them that are saved, and in them that perish: To the one we are the savour of death unto death; and to the other the savour of life unto life. And who is sufficient for these things? For we are not as many, which corrupt the word of God: but as of sincerity, but as of God, in the sight of God speak we in Christ."

I thank God that I'm on the winning side. Jesus Christ died, was buried and rose again three days later. If you receive what Jesus did for you as payment for your sins, then you are saved my friend...

1st Corinthians 15:1-4, "Moreover, brethren, I declare unto you the gospel which I preached unto you, which also ye have received, and wherein ye stand; By which also ye are saved, if ye keep in memory what I preached unto you, unless ye have believed in vain. For I delivered unto you first of all that which I also received, how that Christ died for our sins according to the scriptures; And that he was buried, and that he rose again the third day according to the scriptures."

The purpose of this website is to motivate believers to become aggressive soulwinners for Jesus Christ, to teach people how to become soulwinners, and to provide as many resources as possible to equip the soulwinner. It is also the purpose of this website to EXPOSE the many enemies of soulwinning, which blind the masses and keep people from getting saved. Jesus clearly stated, "Ye must be born again" (John 3:7). Apart from being born again, no person can enter Heaven! This eliminates 99% of the population.

As an example: Don't believe the lie, not for one second, that Muslims and Christians worship the SAME God. No, we don't! The Koran clearly states in, The Women 4.171, that God has NO Son. In sharp contrast, John 3:16 in the Word of God declares that God DOES have a Son, "For God so loved the world, that he gave his only begotten Son, that whosoever believeth in him should not perish, but have everlasting life." The Koran even goes as far as to claim that Jesus never died, nor was He crucified (The Women, 4.157).

Clearly, Islam and Christianity are DIAMETRICALLY opposed. Yet, the Devil comes to people through MANY false prophets today, even former President George W. Bush, who falsely claimed that Christians and Muslims worship the SAME God. Allah is a pagan god, who has no son. Jesus Christ is Almighty God (John 10:33; Revelation 1:8), the second Person of the Godhead (John 1:1-3,10; Matthew 28:19-20), the Christ (Luke 2:11), and He is the Son of God (John 3:16)! 1st John 4:14 declare, "And we have seen and do testify that the Father sent the Son to be the Saviour of the world." What are you Muslims talking about? Clearly, the Koran and Islam are enemies of God, and of soulwinning.

Furthermore, most of the world's churches are dead today, resembling a spiritual morgue more than the house of God. While millions of babies continue to be murdered through abortion, the world's churches are eerily silent. While professed Christians continue to play with religion, the world is plunging into the abyss of Hell...

"Let's quit fiddling with religion and do something to bring the world to Christ." —Billy Sunday

It was also Billy Sunday who spoke these sad words describing the apostate condition of churches today... "It would be a godsend if the Church would suffer persecution today; she hasn't suffered it for hundreds of years. She is growing rich and lagging behind. Going back."

—Billy Sunday, The Need for Revivals, From "Billy Sunday: The Man and His Message", by William T. Ellis, Philadelphia: John C. Winston Co., 1914.

All around the world today, professed "Christians" are not bearing fruit. Jesus said in John 15:5, "I am the vine, ye are the branches: He that abideth in me, and I in him, the same bringeth forth much fruit: for without me ye can do nothing." The Word of God plainly teaches that those believers who abide in Jesus Christ WILL bear much fruit. How many people have you witnessed to this year? Last year? Since you've been saved? This website has been published to stir a fire for soulwinning in the hearts of believers, and to provide as many resources as possible to help you in that cause. You don't need to buy anything, nor do I sell anything.

God deliver us from money-hungry believers. Salvation is a FREE GIFT of God (Romans 5:15), paid for by Jesus' precious blood (1st Peter 1:18-19). Jesus said that the Holy Spirit would guide us into all truth (John 16:13). In John 5:39 Jesus commanded for each of us to SEARCH THE SCRIPTURES!!! The Bible can make us complete in Christ (2nd Timothy 3:16-17). We don't need more books, videos presentations, or seminars—we need Christians who walk with the Lord in prayer, study the Scriptures, and have a zeal for SOULWINNING. Rise up oh Christian... "Then saith he unto his disciples, The harvest truly is plenteous, but the labourers are few" (Matthew 9:37).
Pastor's Timely Messages for Our Day:
Click Here
Click for complete Menu
OUR WEBSITE NAVIGATIONAL MENU
Click for individual pages
The Love of God
Pastor's Testimony
Pastor's Pledge
Click to send us an email!
Click to return to Home Page!