>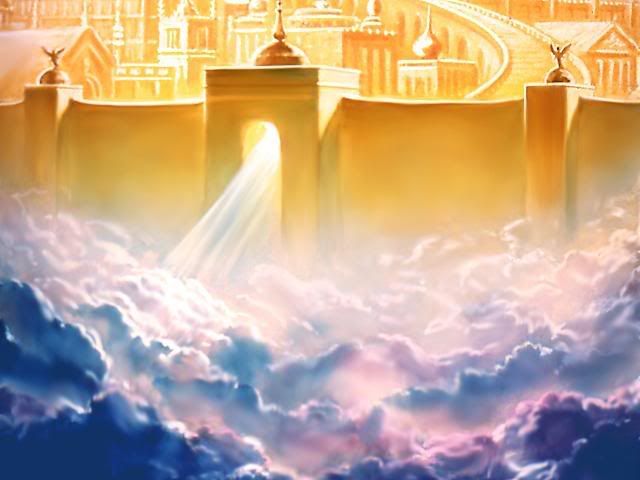 "But as it is written, Eye hath not seen, nor ear heard, neither have entered into the heart of man,
the things which God hath prepared for them that love him."
1 Corinthians 2:9
A Letter from Heaven

The angels came and ushered me into God's presence, dear Mama.
They carried me, like you did, when I would fall asleep.
I awoke into the arms of Jesus,
the One who gave His life for me!


It's so beautiful up here, Mama;
so beautiful like you've always said!
A pure river of water of life, clear as crystal,
proceeding out of the throne of God.

So overwhelmed with His love was I, dear Mama!
Imagine my joy seeing Jesus face to face!
His smile - so warm...
His face - so radiant...
"Welcome home - My child!" He tenderly said.

Oh, don't be sad for me, Mama.
I can run and jump
dance and sing!
I feel so light on my feet like I'm dreaming, Mama!


Sometimes I laugh as I dance in the presence of the angels.
The curse of death has lost its sting.

Oh, don't cry for me so, Mama.
Your teardrops fall like the summer rain.
Death is sorrowful with its separation.
Cry for a while, but not as those in vain.


Although God called me home so early,
with so many dreams we had, so many songs unsung.
I'll be in your heart, in your cherished memories.
The moments we had will carry you through.


Oh remember, Mama, when at bedtime, I'd crawl up in your bed?
You would tell me stories of Jesus and the love for us He had.


I looked into your face as you read to me in the candlelight.
"Will the angels come to carry me home too, Mama?"
You chuckled teasingly, ruffling my hair.
"Yes, my little angel, but you have to wait!
Trust Him as your Savior,
in His blood that was shed for you."


On bended knees you prayed for me,
a tear splashed down your cheek.
"Was that a tear Mama?" I asked you softly.
You looked away from me.
A tender sigh escaped your lips...
gathering your thoughts together...
" Yes, my little angel, tears in my heart water my prayers."
you said softly, kissing me goodnight.


I remember those nights, Mama-
your treasured stories.
Mama's lullabies that I tucked in my heart.
In the darkness, the slamming of Daddy's door
echoed his drunkenness in the night.
Through the thin walls, I could hear you cry.
An angel weeps, my mama.
"Take care of Mama..." I asked God softly,
watering my prayers with tears.

That night, Mama when you prayed for me,
I got down on my knees.
The moonlight danced on the wooden floors
when I asked God to save me.
Although I didn't know what to say at first,
I remember what you said.
Pray from your heart, dear child,
you said tenderly, turning to the door to leave.


"Dear Jesus, I am a sinner.

I'm sorry for my sins.

I'm sorry they were so mean to you

when they nailed you to the tree.

Come into my heart, Lord Jesus,

and should the angels come,

take me to heaven with You.

And Jesus...I hear M.ama crying,

watch her while she sleeps.

Forgive Daddy for being so mean,

as You have forgiven me.

In Jesus' name. Amen."
Jesus came into my life that night, dear Mama!
In the darkness, I could feel you smile.
Bells rang for me in heaven!
My name written in the Book of Life.

So don't cry for me, dear Mama,
I'm here in heaven because of you.
Jesus needs you now, for there are my brothers.
There's more work on earth for you to do.

One day when your work is over,
the angels shall come to carry you
safely into the arms of Jesus,
the One who loved and died for you.


***

Dear soul,
Do you have the assurance of this young girl,
that should the angels come, they will carry you home to glory?
Death for a believer is but a doorway that opens into eternal life.
Those who fall asleep in Jesus
shall be reunited with their loved ones in heaven.
Those you've laid in the grave in tears,
you shall meet them again with joy!
Oh, to see their smile and feel their touch...
never to part again!
Yet, if you don't believe in the Lord, you're going to hell.
There is no pleasant way to say it.
The Scripture says,
"For all have sinned, and come short of the glory of God."
Romans 3:23
"That if thou shalt confess with thy mouth the Lord Jesus,
and shalt believe in thine heart that God hath raised him from the dead,
thou shalt be saved."
Romans 10:9
Don't fall asleep without Jesus
until you are assured of a place in heaven.
Tonight, if you would like to receive the gift of eternal life
first you must believe in the Lord.
You have to ask for your sins to be forgiven
and put your trust in the Lord.
There's only one way to heaven and that's through the Lord Jesus.
That's God's wonderful plan of salvation.
You can begin a personal relationship with Him
by praying from your heart a prayer such as the following:
"O God, I am a sinner.
I am sorry for my sins.
I want to turn from my sin.
I receive Jesus Christ as my Savior;
I confess Him as my Lord.
From now on I want to follow Him.
In Jesus' name, Amen."
Repentant sinners prayer
"...God be merciful to me a sinner."
Luke 18:13
If you have received the Lord Jesus as your personal Savior

after reading this invitation, please let us know.
We would love to hear from you. Your first name is sufficient.
Welcome to the family of God!

We are excited about your decision to accept the Lord Jesus as your Saviour, and would like to encourage you to find a local church that you could be a part of to help you grow in your new walk with Him.
Also, we encourage you to develop a personal relationship with the Lord
by reading the Scriptures and praying to Him often. Talk to Him as you would talk to a dearest friend. He desires that closeness and intimacy with you!

"He shall feed his flock like a shepherd:
he shall gather the lambs with his arm,
and carry them in his bosom,
and gently lead those that are with young."
~ Isaiah 40:11

Scriptural References for your personal study on this topic:
Luke 16:22, 23:43, John 3:16, Romans 10:9, 1 Corinthians 15:55,
2 Corinthians 5:8, 1Thessalonians 4:13-14, Philippians 1:21, Revelation 21:27, 22:1-5



***

If you would like to contact us for spiritual guidance, or for follow up care,
feel free to write to us at wraykjb1611@aol.com
We appreciate your prayers and look forward to meeting you in eternity!


***

The Music Will Never End

I used to think, loving life so greatly,
that to die would be like leaving the party before the end.

But now I know that the party is really happening somewhere else.
Then the light and music escaping in snatches,
to make the pulse beat faster and the tempo quicken,
comes from another place.

And I know, too, that when I get there,
the music and the love and the praise
will belong to Him
and the music will never end.
Author unknown
I Arrived Okay
To my dearest family, some things I'd like to say...
but first of all, to let you know, that I arrived okay.
I'm writing this from heaven. Here I dwell with God above.
Here, there's no more tears of sadness; here is just eternal love.

Please do not be unhappy just because I'm out of sight.
Remember that I'm with you every morning, noon and night.
That day I had to leave you when my life on earth was through,
God picked me up and hugged me and He said, "I welcome you."

It's good to have you back again; you were missed while you were gone.
As for your dearest family, they'll be here later on.
I need you here badly; you're part of my plan.
There's so much that we have to do, to help our mortal man."

God gave me a list of things, that he wished for me to do.
And foremost on the list, was to watch and care for you.
And when you lie in bed at night, the day's chores put to flight.
God and I are closest to you....in the middle of the night.

When you think of my life on earth, and all those loving years
because you are only human, they are bound to bring you tears.
But do not be afraid to cry; it does relieve the pain.
Remember there would be no flowers, unless there was some rain.

I wish that I could tell you all that God has planned.
But if I were to tell you, you wouldn't understand.
But one thing is for certain, though my life on earth is o'er.
I'm closer to you now, than I ever was before.

There are many rocky roads ahead of you and many hills to climb;
but together we can do it by taking one day at a time.
It was always my philosophy and I'd like it for you too...
that as you give unto the world, the world will give to you.

If you can help somebody who's in sorrow and pain,
then you can say to God at night......"My day was not in vain."
And now I am contented....that my life has been worthwhile,
knowing as I passed along the way, I made somebody smile.

So if you meet somebody who is sad and feeling low,
just lend a hand to pick him up, as on your way you go.
When you're walking down the street, and you've got me on your mind;
I'm walking in your footsteps only half a step behind.

And when it's time for you to go.... from that body to be free,
remember you're not going.....you're coming here to me.


Ruth Ann Mahaffey
©Copyright 1998
Click to Contact Us