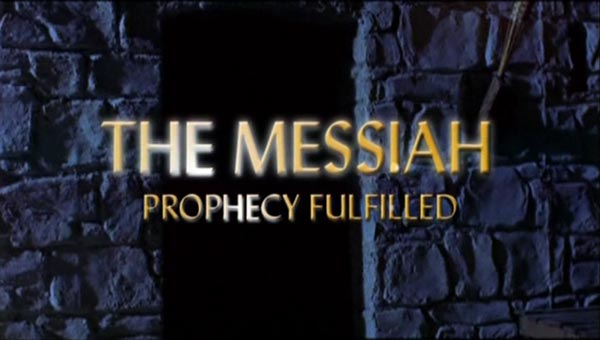 Jesus Christ and Fulfilled Prophecy
He is the Messiah Christ
MESSIAH (CHRIST) IN THE OLD TESTAMENT
The Messiah (Christ) is the Word of God (John 1:1) and so it should come as no surprise that He is described in every Old Testament book.
In Genesis He is the Seed of the woman (Gen. 3:15).
In Exodus He is the Lamb of God for sinners slain (Ex. 12:5-7, Gen. 12:11).
In Leviticus He is our High Priest (the whole book).
In Numbers He is the Star out of Jacob (Numb. 24:17).
In Deuteronomy He is the Prophet like unto Moses (Deut. 18:15).
In Joshua He is the Captain of the Lord's armies (Josh. 5:13-15).
In Judges He is the Angel of the LORD or the messenger of Jehovah (Judges 13:18-21, Judges 13:22-23).
In Ruth He is our Kinsman-Redeemer (Chapter 3).
In Samuel, Kings and Chronicles He is the King of Kings and Lord of Lords (1Sam. 8:1-4, 1Sam. 8:5-8, 9).
In Ezra, Nehemiah and Esther He is the sovereign Lord over all the kingdoms of the earth (entire books).
In Job He is our risen and returning Redeemer (Job 19:25).
In Psalms He is the Blessed Man (Psalm 1:1-3), the Son of Man (Psalm 2:2-5, Psalms 2:6-9, Psalms 2:10-12), the Crucified One (Psalm 22), the Coming One (Psalm 24), the Reigning One (Psalm 72).
In Proverbs He is our Wisdom (Provb. 14).
In Ecclesiastes He is the forgotten Wise Man (Eccl 9:14-15).
In Song of Solomon He is my Beloved (Song 2:16).
In Isaiah He is our suffering Substitute (Isa 53).
In Jeremiah He is the LORD OUR RIGHTEOUSNESS (Jere. 23:6).
In Lamentations He is the Man of sorrows who weeps for His people (Lam. 1:12-15, Lam. 1:16-18).
In Ezekiel He is the glory of God (Ezek. 1:28).
In Daniel He is the Smiting Stone (Dan. 2:34) and the Companion in the furnace of fire and the den of lions (Dan. 3:24-25; Dan. 6:22).
In Hosea He is David's Greater King (Hos. 3:5).
In Joel He is the Hope of His people (Joel 3:16).
In Amos He is the Rescuer of Israel (Amos 3:12).
In Obadiah He is the Deliverer upon Mount Zion (Oba. 1:17).
In Jonah He is the buried and risen Saviour (compare Matt. 12:40).
In Micah He is the Everlasting God born in Bethlehem (Mic. 5:2).
In Nahum He is our Stronghold in the day of wrath (Nah. 1:7).
In Habakkuk He is the Anchor of our faith (Hab. 2:4).
In Zephaniah He is in the midst for judgment and cleansing (Zeph. 3:5, Zeph. 3:15).
In Haggai He is Lord of presence and power (Hag. 1:13).
In Zechariah He is the smitten Shepherd (Zech. 13:7).
In Malachi He is the Sun of Righteousness (Mal. 4:2).
Old Testament Scriptures That Describe The Coming Messiah
The Messianic Prophecy (paraphrased)
Where the prophecy appears in the Old Testament (written between 1450 BC and 430BC)
Jesus' fulfillment of the prophecy in the New Testament (written between 45 and 95 AD)
The Messiah will be the offspring (descendant) of the woman (Eve)
Genesis 3:15
Galatians 4:4
The Messiah will be a descendant of Abraham, through whom everyone on earth will be blessed
Genesis 12:3; 18:18
Acts 3:25,26
The Messiah will be a descendant of Judah
Genesis 49:10
Matthew 1:2 and Luke 3:33
The Messiah will be a prophet like Moses
Deuteronomy 18:15-19
Acts 3:22-23
The Messiah will be the Son of God
Psalm 2:7
Matthew 3:17; Mark 1:11; Luke 3:22
The Messiah will be raised from the dead (resurrected)
Psalm 16:10-11
Matthew 28:5-9; Mark 16:6; Luke 24:4-7; John 20:11-16; Acts 1:3 and Acts 2:32
The Messiah crucifixion experience
Psalm 22 (contains 11 prophecies—not all listed here)
Matthew 27:34-50 and John 19:17-30
The Messiah will be sneered at and mocked
Psalm 22:7
Luke 23:11,Luke 23:35-39
The Messiah will be pierced through hands and feet
Psalm 22:16
Luke 23:33 and Luke 24:36-39;
John 19:18 and John 20:19-20, John 20:24-27
The Messiah's bones will not be broken (a person's legs were usually broken after being crucified to speed up their death)
Psalm 22:17 and Psalms 34:20
John 19:31-33,John 19:36
Men Will Gamble for the Messiah's clothing
Psalm 22:18
Matthew 27:35; Mark 15:24; Luke 23:34; John 19:23-24
The Messiah will accused by false witnesses
Psalm 35:11
Matthew 26:59-60 and Mark 14:56-57
The Messiah will be hated without a cause
Psalm 35:19 and Psalms 69:4
John 15:23-25
The Messiah will be betrayed by a friend
Psalm 41:9
John 13:18-21
The Messiah will ascend to heaven (at the right hand of God)
Psalm 68:18
Luke 24:51; Acts 1:9; Acts 2:33-35; Acts 3:20-21; Acts 5:31-32; Acts 7:55-56; Romans 8:34; Ephesians 1:20-21; Colossians 3:1; Hebrews 1:3; Heb. 8:1; Heb. 10:12; Heb. 12:2; 1 Pet 3:22 . . . sorry, we got carried away!
The Messiah will be given vinegar and gall to drink
Psalm 69:21
Matthew 27:34; Mark 15:23; John 19:29-30
Great kings will pay homage and tribute to the Messiah
Psalm 72:10-11
Matthew 2:1-11
The Messiah is a "stone the builders rejected" who will become the "head cornerstone"
Psalm 118:22-23 and Isaiah 28:16
Matthew 21:42-43; Acts 4:11; Ephesians 2:20; 1 Peter 2:6-8
The Messiah will be a descendant of David
Psalm 132:11 and Jeremiah 23:5-6; Jere. 33:15-16
Luke 1:32-33
The Messiah will be a born of a virgin
Isaiah 7:14
Matthew 1:18-25 and Luke 1:26-35
The Messiah's first spiritual work will be in Galilee
Isaiah 9:1-7
Matthew 4:12-16
The Messiah will make the blind see, the deaf hear, etc.
Isaiah 35:5-6
Many places. Also see Matthew 11:3-6 and John 11:47
The Messiah will be beaten, mocked, and spat upon
Isaiah 50:6
Matthew 26:67 and Matt. 27:26-31
The "Gospel according to Isaiah"
Isaiah 52:13 Isa. 53:12
Matthew, Mark, Luke, John
People will hear and not believe the "arm of the LORD" (Messiah)
Isaiah 53:1
John 12:37-38
The Messiah will be rejected
Isaiah 53:3
Matthew 27:20-25; Mark 15:8-14; Luke 23:18-23; John 19:14-15
The Messiah will be killed
Isaiah 53:5-9
Matthew 27:50; Mark 15:37-39; Luke 23:46; John 19:30
The Messiah will be silent in front of his accusers
Isaiah 53:7
Matthew 26:62,63 and 27:12-14
The Messiah will be buried with the rich
Isaiah 53:9
Matthew 27:59-60; Mark 15:46; Luke 23:52-53; John 19:38-42
The Messiah will be crucified with criminals
Isaiah 53:12
Matthew 27:38; Mark 15:27; Luke 23:32-33
The Messiah is part of the new and everlasting covenant
Isaiah 55:3-4 and Jeremiah 31:31-34
Matthew 26:28; Mark 14:24; Luke 22:20; Hebrews 8:6-13
The Messiah will be our intercessor (intervene for us and plead on our behalf)
Isaiah 59:16
Hebrews 9:15
The Messiah has two missions
Isaiah 61:1-3 (first mission ends at ". . . year of the LORD's favor")
First mission: Luke 4:16-21; Second mission: to be fulfilled at the end of the world
The Messiah will come at a specific time
Daniel 9:25-26
Galatians 4:4 and Ephesians 1:10
The Messiah will be born in Bethlehem
Micah 5:2
Matthew 2:1 and Luke 2:4-7
The Messiah will enter Jerusalem riding a donkey
Zechariah 9:9
Matthew 21:1-11
The Messiah will be sold for 30 pieces of silver
Zechariah 11:12-13
Matthew 26:15 with Matthew 27:3-10
The Messiah will forsaken by His disciples
Zechariah 13:7
Matthew 26:31, Matt. 26:56
The Messiah will enter the Temple with authority
Malachi 3:1
Malachi 4:1 and Luke 19:45

Miracles of Jesus Christ


Water to wine John 2:1-11
Healing official's son John 4:46-54
Possessed man healed Mark 1:21-27, Luke 4:33-37
Peter's mother-in-law healed Matthew 8:14-15, Mark 1:29-31, Luke 4:38-39
Many healed at Capernaum Matthew 8:16-17, Mark 1:32-39, Luke 4:40-41
Many in Galilee Matthew 4:23-25
Catch of fish Luke 5:1-11
Leper healed Matthew 8:1-4, Mark 1:40-45, Luke 5:12-16
Paralytic healed Matthew 9:1-8, Mark 2:1-12, Luke 5:17-26
Lame man healed John 5:1-17
Withered hand healed Matthew 12:9-14, Mark 3:1-6, Luke 6:6-11
Many in Galilee Matthew 12:15-21, Mark 3:7-12, Luke 6:17-19
Centurion's servant Matthew 8:5-14, Luke 7:1-10
Widow's son raised Luke 7:11-17
Sea made calm Matthew 8:23-27, Mark 4:35-41, Luke 8:22-25
Demoniac healed Matthew 8:28-34, Mark 5:1-20, Luke 8:26-39
Jairus daughter raised Matthew 9:18-26, Mark 5:22-43, Luke 8:41-56
Woman with hemorrhage Matthew 9:20-22, Mark 5:24-34, Luke 8:49-56
2 blind men healed Matthew 9:27-31
Mute man healed Matthew 9:32-34
5000 fed Matthew 14:13-21, Mark 6:30-44, Luke 9:10-17
Walks on water Matthew 14:22-33, Mark 6:45-52, John 6:15-21
Gennesaret sick healed Matthew 14:34-36, Mark 6:53-56
Many healed in Galilee Matthew 9:35
Some healed in Nazareth Mark 6:1-6
Gentile's daughter healed Matthew 15:21-28, Mark 7:24-30
Many at Sea of Galilee healed Matthew15:29-31, Mark 7:31-37
4000 fed Matthew 15:32-39, Mark 8:1-10
Blind man healed Matthew 16:5-12, Mark 8:14-26
Deaf/blind man healed Mark 7:31-37
Transfiguration of Jesus Matthew 17:1-13, Mark 9:2-13, Luke 9:28-36
Epileptic boy healed Matthew 17:14-21, Mark 9:14-29, Luke 9:37-42
Coin in fish Matthew 17:24-27
Blind man healed John 9:1-41
Deaf/blind man healed Matthew 12:22-24, Luke 11:14-15
Bethsaida blind man healed Mark 8:22-26
Crippled woman healed Luke 13:10-17
Man with dropsy healed Luke 14:1-16
Lazarus raised John 11:1-45
Ten Lepers healed Luke 17:11-19
Crowds in Judea healed Matthew 19:1-2
Blind Bartimaeus healed Matthew 20:29-34, Mark 10:46-52, Luke 18:35-43
Blind/lame in Jerusalem healed Matthew 21:14
Fig tree withered Matthew 21:18-22, Mark 11:12-24
Ear of Malchus healed Luke 22:47-53, John 18:10-11
Resurrection of Jesus Matthew 28:1-10, Mark 16:1-20, Luke 24:1-53, John 20:1-31
Catch of fish John 21:1-14
Click to Email Us