Choosing the Right Church to Attend?


Notice

You may notice many Scripture verse notations on these web pages, by sliding your mouse over the verse
you will see a popup of verse, by clicking the verse you will be sent to a full chapter reading.
Use back arrow to return! Thanks to, powered by AV1611.com

The Right
Church
How To Find It
By Dean Robinson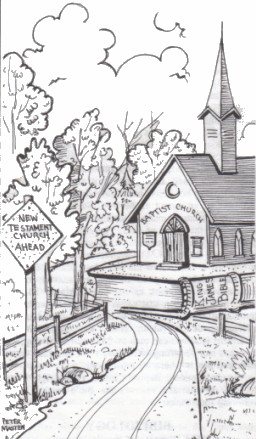 "But if I tarry long, that thou mayest know how thou
oughtest to behave thyself in the house of God, which is the
church of the living God, the pillar and ground of the
truth." 1 Tim. 3:15
   When you come to church, one should expect, yea
demand, that the truth be taught and preached.   The church
is the pillar, the ground, the one foundation which holds up
God's truth in this world.   It is the church that is to pre-
serve, preach, portray, practice, and protect the truth in
order that God's work will continue to prosper and be
blessed mightily of the Lord.
   The plain teaching of all Scripture establishes the fact
that believers in the Lord are commanded of Christ to
accept all of His truth.   We are not to add, dilute, edit, or
change it in any way.   The whole New Testament echoes
the teaching of Christ that there is one truth and God's
people should be united in accepting it.   But as any honest
person will readily admit this is not the case.   We are living
in a day and age where there is much debate, confusion,
disagreement, and controversy over the truth.
   We have literally hundreds of churches of different
denominations, groups, and organizations all proclaiming
to believe in different creeds and beliefs and emphasizing
conflicting doctrines while at the same time declaring it
doesn't make any difference what a person believes.
Religion has made itself look ridiculous by making the
preposterous claim that all the hundreds of competing
churches with their biased beliefs, contradicting claims, and
diverse doctrines are really one religion.   Many argue that
all religions and churches are equally good and that even
though we may be taking different roads, we are all bound
for the same place.   But simple logic should tell you that
these churches holding to beliefs and doctrines that contra-
dict each other cannot all be true.   Such differences and
diversity has caused much chaos and confusion concerning
the truth of the Word of God.   Therefore we are brought
face to face with the question, which church is the one that
is declaring the truth?   Which church is right?   Which are
wrong?   How can I know the true church?
   The quickest way to receive an answer to these
questions we must look to one place.   Amidst all of the
chaos and confusion that exists among the hundreds of
conflicting religions, there exists only one source of
information that is without error -- the inspired Word of
God.   This is all we can turn to.   Man can be wrong, even
churches can be wrong; only God's Word stands without
error and this is where we must look.
   An Independent Baptist Church is the right church
because of what she believes the Bible teaches on the
following four truths:

BIBLIOLOGY
(The Doctrine of the Scriptures)

   Most churches used to say that the Bible was their final
authority for faith and practice but that's not so any more.
As churches and as Christians, we have an absolute
standard for our beliefs, our duties, and our whole
conduct.   It is the Bible.
   The Bible is the written record of God's revelation to
man.   It is not man's concept of God but rather a record
which God Himself authored through inspiration.   Therefore
it is pure, perfect, inerrant, and infallible.   It is a record
which will stand for time and eternity.   Our faith then is not
built upon philosophy, fables, or the traditions of men.   Our
faith is built upon the rock of the true utterances of the
living God.   Two words need to be mentioned and defined
when dealing with bibliology: inspiration and preservation.
   Inspiration (II Tim. 3:16)   Paul used the word "inspira-
tion" (God-breathed) in order to teach us that we can take
the Bible to be the authority for all we believe and do.
Because the Bible is inspired of God, it is true from
beginning to end.   The Bible teaches verbal inspiration,
meaning God inspired the words, not just the ideas or
thoughts.   Jesus said, "Heaven and earth shall pass away,
but my words shall not pass away."   (Matthew 24:35).   The
Holy Spirit of God so guided and controlled the men whom
He used to write the Scriptures that not only the ideas but
the very words that they wrote were given to us from God.
God so directed the choice of the words that they are His
words and for that reason are pure and perfect.   The Bible
tells us, "For the prophecy came not in old time by the
will of man: but holy men of God spake as they were moved
by the Holy Ghost."   (2 Peter 1:21).   Holy men of God
wrote in obedience to the divine command and were kept
from all error.   God accomplished the miracle of inspiration
by providentially preparing the writers for their work and
by so revealing His truth to them, He enabled, guided,
superintended them in the recording of it as to give to us
through them an exact and complete Bible.   II Tim. 3:16
teaches that the entire Bible is fully and equally inspired of
God; we have a complete revelation from God to man.   No
additional revelations are necessary either in writings or
visions.   The Bible does not contain the Word of God, it is
the Word of God.   We must guard this precious doctrine of
verbal inspiration for it is the very foundation of our
doctrinal soundness and of our spiritual power.
   Preservation (Ps. 12:6-7)   Do we have the Bible today?
The original manuscripts have long been lost, so does this
mean we no longer have the sure Word of God?   Does the
Word of God exist today?   Yes!   How do I know?   The Bible
tells me so!   The Bible tells me that God has promised me
that He will preserve His Word.   If we deny the Bible's
promises concerning its own preservation, then we deny the
validity of every other promise it contains.   If God has
failed in His promise to preserve His Word, then we have
no guarantee that He will perform or keep any other
promise.   The Bible rests itself on the sure foundation of
inspiration and preservation.   One without the other is
useless, like two wings on a bird.   There was no need for
God to inspire the Bible unless it was to be preserved and
there was no need to preserve it unless it was inspired.   If
God, who cannot lie, has preserved His Word, then we
need to know where that Word is, we need to diligently
study and know just what that Word says and teaches.   We
believe the King James Bible is the very inspired, pre-
served Word of God.   If we believe God is either unable or
unwilling to keep His promise to preserve His Word, then
we must conclude that we don't have His Word today.   On
the other hand, if we approach this issue by faith, i.e.
believing God, then our conclusion will be that we do have
His Word today.   The question is, do you believe God?   If
you do, then you will believe His promise to preserve His
Word.   The Bible is forever settled in heaven and Satan
with all his cohorts cannot destroy it.   I believe the God
who wrote the Bible has kept it, and will preserve it until
its ministry is finished here on earth.   An Independent
Baptist Church is the right church because of what she
believes the Bible teaches on:

SOTERIOLOGY
(The Doctrine of Salvation)

   Just as there are a multiplicity of churches and reli-
gions in the world today, so is there manifold teachings on
the subject of salvation.   But the Bible is plain and clear that
there is only one way of salvation, one way to Heaven: "
Jesus saith unto him, I am the way, the truth, and the life:
no man cometh unto the Father, but by me."   (John 14:6).
Christ Himself is the actual means for bringing men to God
as He spans the distance between God and the sinner.
There is no other way: "There is a way which seemeth
right unto a man, but the end thereof are the ways of
death."   (Proverbs 14:12).   Jesus did not simply teach the
way or point out the way; He is the way.   "For there is
one God, and one mediator between God and men, the man
Christ Jesus;" (1 Timothy 2:5).   This wipes away any other
proposed way to heaven whether it be good works, reli-
gious ceremonies, clean living, etc.   There is only one way
and that way is Jesus Christ.   "Neither is there salvation in
any other: for there is none other name under heaven given
among men, whereby we must be saved."   (Acts 4:12).
   The greatest, most important words about God's
salvation are to be found in eight words in Eph. 2:8, "For
by grace are ye saved through faith..."   This is the sinner's
only hope.   God's grace is His favor and kindness bestowed
upon the guilty and unworthy, those who do not deserve it
and cannot earn it.   Grace came by Jesus Christ when He
fully made known God's gracious salvation when He shed
His blood on Calvary's cross for our sins and opened the
fountain of mercy and pardon to every believing sinner.   "
In whom we have redemption through his blood, the
forgiveness of sins, according to the riches of his grace;"
(Ephesians 1:7).   Grace is a provision for sinners who are
so fallen and corrupt that they cannot change their own
natures, so opposed to God that they cannot turn to Him,
so blind that they cannot see Him, so deaf that they cannot
hear Him, and so dead that Jesus Christ Himself must open
their graves and lift them into resurrection and life.   Since
sinners cannot save themselves, it was God's grace that
brought salvation to lost mankind.   This salvation was not
invented or discovered by sinners but it was made manifest
throughout the life, death, and resurrection of Jesus Christ.
It is only by the sovereign grace of God that we have
salvation.   Grace excludes all works and boasting; it stands
in direct opposition to works and worthiness.   God's work
of salvation for us and in us is by grace, i.e. it began in
grace, continued by grace, and completed through grace.
Because God is gracious, sinners are forgiven, converted,
and saved.   It is not because of anything in them or that can
ever be in them, that they are saved.   But it is because of
the boundless love, goodness, compassion, mercy, and
grace of God.   Grace is the first and last moving cause of
salvation.   It is because His mercy endureth forever that
men are not destroyed; it is because His compassion fail
not that sinners are brought to Christ and forgiven.   Herein
lies the fountain head, the divine source of our salvation
and all blessings -- the grace of God.   "The way to Heaven
does not lie over a toll-bridge but over a free bridge, the
unmerited free grace of God in Christ Jesus."
   The Bible declares and teaches there must be a work
of repentance and faith in the sinner's heart before one can
be saved.   Repentance and faith are inseparable; cannot
have one without the other.   Acts 20:21 says there must be
repentance toward God and faith toward Christ.   Jesus
Himself preached in Mark 1:15 one must repent and
believe the gospel.   There must be a turning away from, the
confession of, the forsaking of sin and a turning unto God.
And it is not mere faith that saves, but faith in Christ and
His shed blood for your sins.   In repentance one sees
himself as a lost sinner before God; in faith one sees Christ
as Saviour from his sin.   In repentance the sinner is help-
less; in faith Christ is mighty to save.   An Independent
Baptist Church is the right church because of what she
believes the Bible teaches on:

ECCLESIOLOGY
(The Doctrine of the Church)

   Because of the many human institutions which claim
the name of churches, it is difficult for many people to
recognize false churches for what they are.   There are so
many false churches today that people assume that every
professing Christian organization is truly a church and that
there are really no false churches but just a few churches
that have differences of opinion on some things.   But the
Bible declares and warns us of false churches with their
false prophets preaching a false gospel.   Not only are we
responsible to believe and to proclaim the doctrines of the
Word of God but we also are responsible to discern
between the true and the false and to reject and repudiate
the false.
   Satan has blinded the eyes of men to the truth and
importance of the doctrine of the church.   There seems to
be hopeless confusion and disagreement not only among
professing Christians but even among so-called Baptists as
to the origin of the church and other related truths in
connection with it.   Because of the neglect of church truth,
loose thinking and erroneous views have developed as to
what constitutes a New Testament church.
   The Bible teaches that the church was founded, built
by Christ.   As He said in Matt.16:18, "...upon this rock I
will build my church; and the gates of hell shall not prevail
against it."   The word "church" in Christ's day had only
one meaning: a company of people called out for a specific
purpose.   The Scriptures abundantly declare the New
Testament church to be a local, visible assembly, a local
institution.   The terms used to describe the churches in the
New Testament (such as: body ICor. 12:2 bride IICor. 11:3
Eph. 5:8, Rev. 19:18 building Eph. 2:8-9) show that the universal,
invisible church theory to be unscriptural and unfounded.
A New Testament church is a local, visible, independent
organized assembly of baptized believers united together in
their faith to carry out the Great Commission.
   Jesus said He would build His church.   If His words
mean anything at all, they must mean that the institution
which He built, started, was one separate and distinct from
any institution that had previously existed or existed at that
time.   The Lord Jesus Christ did not delegate His power or
authority to any man to be the one responsible for building
His church; only Jesus Himself had the right, power,
authority, ability, wisdom to build His church then, and He
still does today!   Any church that has a man for its builder
is a false church.   The church was not founded by any man
for there is but one Founder and Builder of the church and
that is Jesus Christ.   The very fact that some churches can
trace their origin to a man should be enough to make them
realize that they cannot rightly be the Lord's church.   The
church began in Palestine during the earthly ministry of
Jesus Christ with the calling and ordaining of the 12
apostles (Mark 3:10 Luke 6:2, I Cor. 12:28).   When these saved,
baptized apostles, who were the material prepared by John
the Baptist, were called, chosen, ordained, and sent by
Christ, they became a distinct entity, called out body of
believers with Christ as their shepherd, pastor.   This all
took place long before the day of Pentecost in Acts 2:1  To
say the church was established then makes the Holy Spirit
the founder, not Christ.   Jesus built the church and the Holy
Spirit filled it, empowered it to carry out the Great Com-
mission.   Nowhere is there any mention that the disciples
were to be formed into a church by the filling of the Holy
Spirit.
   The origin of the New Testament church is to be found
in Palestine [land of Israel]; the time of it was in the days of the Lord's
earthly ministry; and the founder of the church was the
Lord Jesus Christ.   People need to realize that a church
which isn't patterned after the New Testament church isn't
the Lord's church but is nothing more than a mere human
invention no matter what it may seem in the sight of man.
A true church will possess those characteristics that will
identify it with the New Testament model, the church that
Jesus built.   I submit to you that an Independent Baptist
Church possesses those characteristics, that it has the same
message, same mission, and the same methods of the
churches described in the New Testament.   An Independent
Baptist Church believes that the only organization given in
the New Testament is the local church.   They believe that
God has given the church as the means of accomplishing
His purpose in this age.   An Independent Baptist Church
does not affiliate or identify itself with any organized
convention, association, or fellowship.   An Independent
Baptist Church sends forth its missionaries by the authority
of the church and not through an unscriptural mission
board.   These missionaries are supported directly by the
churches.   An Independent Baptist Church cooperates with
other independent Baptist churches in missions on a
voluntary basis, without any unscriptural organization
binding the churches together.   An Independent Baptist
Church has to rely on God and give Him all the glory.   An
Independent Baptist Church will love the church that Jesus
loved and will not have this love and loyalty switched to
some man-made organization.   An Independent Baptist
Church denounces sin and apostasy wherever it is found;
its voice will not be silenced by loyalty to some outside
organization.   An Independent Baptist Church is not dictated
to nor influenced by any head or headquarters except the
Lord Jesus Christ.   Every Bible-believing Baptist ought to
join an Independent Baptist Church.   When a sincere
believer opens his Bible and studies it, he can only come to
the conclusion that an Independent Baptist Church is the
only true church of the Lord Jesus Christ.   An Independent
Baptist Church is the right church because of what she
believes the Bible teaches on:

ESCHATOLOGY
(The Doctrine of Last Things)

   True Baptists have always been a Bible people.   True
Baptists believe the Bible to be the Word of God and they
refuse additions to it by the interpreters and subtractions
from it by the unbelievers.   They believe the Bible should
be interpreted literally unless the language or the context
indicates otherwise.   Baptist teachings are based upon the
plain statements of the Scriptures and do not depend for
support upon the spiritualization of the Scriptures which
corrupts the meaning of the Scriptures.   True Baptists insist
that the Bible is the only authority and make every effort
to interpret it correctly and apply it properly.
   In the area of eschatology, the second coming of
Christ, there is a variety of differing opinions on this
subject today but true Baptists have always believed in the
pre-tribulational, premillennial coming of Jesus Christ as it
is taught in the Bible.
   The second coming of Christ is two-fold, consists of
two phases: 1) Rapture 2) Return.
   In the Rapture Jesus comes in the air (1Thess. 4:1 on) for
His people (John 14:1-7) as a Bridegroom (Matt. 25:1 on).
   In the Return Jesus comes to the earth (Zech. 14:1 on
Matt. 25:1 on) with His people (Zech. 14:1 on; Jude 1:14 on; Rev. 19:1 on) as a
Judge and King (Rev. 19:1 on).
There will be a seven-year tribulation period, as
described in Rev. 6:1 thru Rev. 18:1 on, between the Rapture of the saints
and Christ's millennial reign with His saints.   That for
which the believer awaits is the personal, literal, bodily
return of Jesus Christ.   This is our hope: "Looking for that
blessed hope, and the glorious appearing of the great God
and our Saviour Jesus Christ;" (Titus 2:13).
   There is only one order of future events and therefore
only one system of prophecy is correct.   We believe that the
pre-tribulational, premillennial view and interpretation of
eschatology to be the correct and biblical viewpoint.   We
may not have every answer to every question nor under-
stand and know everything what lies in the future but I
believe God does not want us to be ignorant about prophe-
cy, end-time events or any other part of His Word.   Just as
we would expect the Holy Spirit to teach us about various
doctrines in the Word, we should expect no less when we
come to the area of eschatology.
   In the midst of a world where things are not getting
better and better but worse and worse, we as independent
Baptists do not need to have a pessimistic outlook on life in
general because we know assuredly from the Scriptures that
Christ is coming again!

CONCLUSION

   We believe an Independent Baptist Church is the right
church because of what she believes the Bible teaches on:
bibliology, soteriology, ecclesiology, and eschatology.   Or
to put it another way: the Book, Blood, Bride, and the
Blessed Hope!
   If you are a member of an independent Baptist church,
then you ought to support it by your presence, prayers, and
pocketbook.   We should love the church as Jesus Christ did
-- He gave Himself for it.
   If you are not a member of an independent Baptist
church, the Bible teaches it is God's will for every born-
again believer to be a member of a sound, Bible-believing,
New Testament independent Baptist church.   It is through
the church that you can live for and serve the Lord Jesus
Christ for His honor and glory.   "Unto him be glory in the
church by Christ Jesus throughout all ages, world without
end.   Amen."  (Ephesians 3:21)

Tract # A-223 Order From:

TABERNACLE BAPTIST CHURCH
1911 34th St., E.L. Bynum, former Pastor
P.O. Box 3100, Lubbock, Texas 79452

Send payment with order and we pay the postage!
If total order is less than $5.00, add .50 cents.

10 for $2.00    100 for $ 8.00    500 for $28.00
50 for $5.00    250 for $16.00    1,000 for $44.00

[] All foreign add 40% and send U.S. funds []

For current discount prices send stamped envelope!
---
The Right Church is an Independent, Fundamental, Bible Believing Baptist Church
(
King James Only
)
20 Questions to Ask before Joining Any Baptist Church
Do you attend church services regularly? Are you a member of a church? If so, why? Over the years, I have learned that most church goers are going to all the wrong churches for all the wrong reasons. "My wife likes it there," one says. Another says, "We have always went there." "They have a good youth program." "My kid's friends go there." "Well, that's just where most people go." "My boyfriend goes there." "They have a large nursery." "I get to sing in the choir." "I teach a Sunday school class." "I like the preacher."
Every reason given above is an UNSCRIPTURAL reason. God never told you to attend "the church of your choice." The devil told you that. God's word is supposed to be your Final Authority in life. God's word is your measuring stick. With God's word you can discern which church is the best church.
The primary issue in choosing a church is DOCTRINE. What does the church believe? No matter how many exciting "programs" the church may have, if they do not believe the right things, then you have no business attending or joining. You are to attend the church of GOD'S CHOICE, not the church of your choice.
Before joining any church, ask for a Statement of Faith and check it carefully. If one is not available, at least speak with the Pastor personally and get answers to the following questions. This concerns YOUR spiritual well- being. You have every right to ask questions. In fact, a genuine Bible-believing Pastor will appreciate you asking doctrinal questions.
The answer to every question should be a very definite "Yes." If the answer is "No" or "I'm not sure," then keep looking because there are better churches to join. A "Yes" answer to each question doesn't guarantee that the church in question will be the best one for you, but it does help you to guard yourself from many of the heresies in our midst.
I.
Do you believe God has preserved an infallible copy of His word for us today? Psalm 12:6-7; Matt. 24:35
II.
Do you believe the King James Bible is God's infallible word for the English speaking people? If the answer is "No," then ask "What is God's infallible word? Can I see a copy?" See question I.
III.
Do you believe that God is a Holy Trinity, consisting of Father, Son, and Holy Spirit? I John 5:7; Matt. 28:19
IV.
Do you believe that the Lord Jesus Christ was born of a virgin, without a man being involved, and lived a sinless life for thirty-three years as God manifest in the flesh? Isa. 7:14; Matt. 1:23; I Tim. 3:16
V.
Do you believe that the Lord Jesus Christ died and paid for our sins on Calvary's cross through the shedding of His own sinless blood? Matt. 26:28; Heb. 9:22; I Tim. 2:5-6; Heb. 10:10-14; Rom. 5:1; Rev. 1:5
VI.
Do you believe that the Lord Jesus Christ rose physically from the dead for our justification? Rom. 1:4; I Cor. 15:1-4; Rom. 10:9-10; Rev. 1:5; Luke 24:36-39
VII.
Do you believe that the Son of God, the Lord Jesus Christ, currently sits at the right hand of God the Father as our High Priest?Heb. 3:1; Heb. 4:14-15; Heb. 8:1; Heb. 10:21
VIII.
Do you believe that the Holy Spirit is a Divine Person who convicts the world of sin, righteousness, and judgment? John 16:7-15; John 14:15-17
IX.
Do you believe that the Holy Spirit is the Supernatural Agent in regeneration, baptizing all believers into the body of Christ?
I Cor. 12:13; Matt. 3:11
X.
Do you believe that the apostolic sign gifts of the Holy Spirit, such as speaking in tongues and the gift of healing, are not for today, since they were for the purpose of confirming the preached word of God to Israel in the first century? Heb. 2:3-4; II Cor. 12:12; 1 Cor. 13:8; 1 Cor. 1:22; 1 Cor. 14:22
XI.
Do you believe that all men are born with a sin nature, and that salvation through Christ is needful for all? Rom. 3:10-23;
Rom. 5:12; Rom. 5:8; Isa. 64:6; Psalms 39:5; Psalms 51:5; John 3:16; Rom. 10:9-10
XII.
Do you believe in the eternal security of those who have received Christ as Saviour? Eph. 4:30; John 10:28-29; Rom. 8:38-39; Philip. 1:6
XIII.
Do you believe that the church is the bride of Christ, consisting of all born-again believers? Eph. 5:25-32; Rev. 19:7-8;
Rev. 21:9
XIV.
Do you believe in the autonomy of the local church? It functions alone without any external administration or control. There are no conventions, associations, or hierarchies mentioned in the Bible.
XV.
Do you recognize water baptism and the Lord's Supper as Scriptural ordinances of obedience for the church? Matt. 28:18-20; Acts 8:37-38; Matt. 26:26-30; I Cor. 11:23-34
XVI.
Do you agree that the majority of professing Christianity is in apostasy, and that true Christians need to practice Biblical separation from such people? II Tim. 3:1-7; II Thess. 2:3; II Cor. 6:14-18; II Tim. 2:20-21
XVII.
Do you believe in the literal, physical, imminent Second Coming of the Lord Jesus Christ? Luke 12:40; Titus 2:13; Acts 1:11; Rev. 19:11-16; Rev. 22:20
XVIII.
Do you believe in a literal glorious New Jerusalem for the saved, and in a literal burning Hell for the lost? Rev. 21:8;
Rev. 20:15; Matt. 25:41; Luke 16:19-31; John 14:1-3; Gal. 4:26
IXX.
Do you believe that Satan is a literal living being who opposes God, and who will be condemned to eternal punishment in the Lake of Fire? Rev. 12:9; Isa. 14:12-15; Ezek. 28:13-17; Job 1:6-12; Rev. 20:10
XX.
Do you believe in the literal word-for-word Genesis account of creation? Genesis Chapters 1-2; Matt. 19:4; Mark 13:19;
John 1:1-3; Heb. 1:1-3; Col. 1:16
What is the Church Doing?
In addition to finding out what a church believes, you should also find out what a church is doing. Many churches believe all the right things, yet they are little more than social clubs. A New Testament church should be a working group of Christian soldiers who strive for three primary goals:
(1) The evangelization of sinners. Lost people need the Gospel, and it is the local church's duty to give it to them. Don't join a church where regular efforts are not being made to turn sinners to Christ. This may be done by door-to-door soul winning, street preaching, tract distribution, jail ministries, nursing home ministries, etc. (Acts 20:20; Luke 14:23)
(2) The edification of the saints. Christians need to grow from the word of God. Don't join a church where such activities as chili suppers, donkey rides, hay rides, skating parties and ball games have taken the place of God's word. The sound preaching and teaching of God's word will produce mature Christian ladies and gentlemen who can go on to live Christ honoring lives. Activities alone will produce carnal babies who will hinder the spiritual growth of the church. (I Peter 2:2)
(3) The glorification of the Saviour. Jesus Christ is the head of the church, and He deserves all the glory. Beware of churches which spend lots of time boasting about their attendance, their ministries, or their offerings. Look for Jesus Christ in a church. If you don't see Him real quick, then look for a better church.(Col. 1:14-18; John 16:13-14)
Also, keep in mind that the size of a church is very seldom an indication of its strength. More often than not, the largest churches in a town are the deadest churches in town. By contrast, there are many small churches which God is using mightily. Never make a decision about a church based solely on its size.
Copyright © 1996
James L. Melton
10 ways not to choose the right church…



This is my parents church, so that's where I will worship.
The church is near my home, so it suits me.
The church has a good sunday school, it's good for the kids.
The church can help me network with likeminded people, its good for my professional development.
The man/woman I love and want to marry goes to this church, so I'll join it too.
This is the first church that ever knocked on my door, they helped me when I needed it.
Everyone at this church seems to be prospering materially, it must be right for me.
I can wear what I want at this church, I don't like the idea of rules about dressing, drinking etc.
The preacher doesn't say anything offensive. I like that the sermons here are "nice".
I fit in here. There's no need for me to change anything. It is comfortable.




The right way to find a church.

1. The church preaches the Bible or God's Plan of Salvation. They acknowledge that Jesus is the only way to God, because all men have sinned and come short of God's glory (Rom. 3:23), we are all spiritually dead (Eph. 2:1). Salvation is the result of God's grace toward us (Eph. 2:8) and we recieve salvation through believing in the death, burial and resurrection of Jesus Christ – this is called saving faith (Eph. 2:8, Rom 5:1). To demonstrate our faith is genuine we will repent of our sins and be baptised in the name of Jesus Christ for the removal of our sins (Acts 2:38). God then will give us the Holy Spirit to empower us to live a holy and godly life (Acts 2:4, Acts 2:38-39). Without the Holy Ghost we are not born again Rom. Chapter 8.

2. This church makes me feel uncomfortable. I feel convicted of sin when I am here. I am challenged to change, sometimes I don't feel like I fit in, it is as if I need to ask God to help me. This is called CONVICTION and it is proof that you are being called to salvation by God the Father.

3. This church reminds me of what I read in the book of Acts. The book of Acts gives us the model for the true Church, we see miracles, healing, the move of the Holy Spirit i.e. speaking in tongues etc.

4. The saints and pastor love each other. This is how we will know we are among Jesus' disciples John Chapter 17


5. The messages are largely negative in content. Men are confronted with their sinful hearts and hatred exposed. REPENTANCE is
a necessity for the New Birth and the maintaining of Fellowship with the Lord.


6. The Preacher has his share of enemies because of his messages.


7. Sin's sinfulness is exposed, it's danger and it's consequences in the believers life.


8. The fear of and the Holiness of God is apparent in it's members. Their testimony is demonstrated by their living and walk.


9. There is a liberty among believers. Soul liberty is acknowledged among it's membership. Practiced and taught


10. Allegiance to the (KJV) of the Bible is realized. It is the only law of faith and practice amongst it believers. Biblical Separation is commanded. Adherence to Baptist Distinctive's is LAW.


The Bible is what makes us Baptist!







How should I choose a church?


Choosing a church is one of the most important decisions a person makes in his/her life...perhaps second only to who they will marry. Your church, in many ways, helps to shape who you are and your relationship with God. Many of the things you will learn about the Bible will come through your church. Most of your close friends will be from your church. In fact, much of your time is spent (or should be) at your church. So, when you set out to find the "right" one for you, it is not light-hearted decision. It will affect both the rest of your life on earth and your eternity.

With so many different "kinds" of churches and denominations...how can you decide which one you should attend? Which follow the teachings of the Bible? Unfortunately, there is no one "type" of church that can be recommended...every one is different...and thus every one must be evaluated individually according to the pattern we find in the Bible. This worksheet is designed to help you discover which churches in your area would be the best to attend. The following are five simple "tests" with which you can evaluate a prospective church. (Note, if a church fails in even one of these important, biblically-based tests, it is probably not the best choice for you.)

The AUTHORITY Test

Do they believe and teach that the Bible is God's inspired Word...that it is without error and that it is the final authority on every church matter?

Is the Bible used as the main reference in preaching, teaching, etc.?

Careful. Many churches have "added" their own traditions to the Bible's authority. They place the words of a specific teacher or leader on the same level as what the Bible says. They might use the Bible or even respect it, but it is not their ultimate authority. This is extremely dangerous! Some have even gone so far as to add whole books to the Bible itself!

The DOCTRINAL Test

Does this church believe and teach that:
God created the world in six days, not by the process of evolution
God is a Trinity--Three Persons in One (Father, Son, and Holy Spirit)
Jesus Christ was born of a virgin, and lived a sinless life
He died on the Cross as the final payment for all sins
He rose again from the dead on the third day
He will appear one day again to "rapture" His church and judge the world
Mankind is sinful and in need of a Savior
Salvation is only by grace through faith in Jesus Christ
A person is saved when he/she repents of sin and trusts Christ as Savior and Lord

Does this church believe what the Bible plainly teaches about all matters of faith and practice?


Nothing can be as confusing as figuring out what people really believe. They might use the same words, but have different meanings for them. Don't be afraid to check everything by what the Bible says! Even the Apostle Paul encouraged people to measure the things he said against the Scriptures. We should do the same today when we hear a preacher or teacher speak on spiritual things. (A thorough doctrinal statement with Scripture references is can be found here...you may want to print it out and check it over yourself, comparing it to the Bible.)

The SPIRITUAL Test

Are the "fruits of the Spirit" evident in this church? (love, joy, peace, patience, kindness, goodness, faithfulness, gentleness, and self-control-- Galatians 5:22-23)

Does the worship service itself remind you of Christ and cause you to worship God, or does it instead glorify people or rituals? Is it proper and in order, the way you think Jesus would run a church service?

Is the music style proper and fitting for the worship of God, or is it merely an entertainment/concert? Would you say the music was "Spirit-driven" or "flesh-driven"? (or outright boring?)

Watch out for churches that brag about being "Spirit-filled". Obviously, having the Spirit present is essential, but many churches who use that terminology have strayed from basic Bible truth. Just because the music is exciting, or the people are fired up, doesn't necessarily mean they have the Spirit. If a church really is Spirit-filled, it will act like Galatians 5:22-23 and 1 Corinthians 12-14 describe.

The PURPOSE Test

Does this church have a "vision" or "goal" for the future?

Is this church serious about training and discipling people in the truth of the Bible?

Is this church active in evangelism, outreach, service to the community, and/or in supporting mission works around the world?

Are the leaders of the church (and prominent members) good examples of people living holy lives the way Jesus lived? Do they practice what they preach?

Biblically, there are some general purposes that every church should be seeking to fulfill. They are worship, evangelism, training, encouragement, fellowship, and service. It is important to find a church that takes these seriously and is actively working to make them happen.

The FELLOWSHIP Test

Does this church have regular times for personal / small group fellowship? (Sunday School, night Bible studies, prayer groups, etc.) Could you begin attending one of these right away?

Are there people in this church that you could get to know who could help disciple & befriend you?

Are there specific ways that you can be involved in the church, through service/outreach projects, Bible study groups, children's ministries, etc.?

You want to make sure you find a church that you can become actively involved in. Hebrews 3:13 and 10:25 make it clear that if you want to have a successful Christian life, you have to be involved personally in your church. It isn't enough to just go to services on Sundays. Many churches offer Bible studies specifically for teens, singles, young married couples, senior citizens, children, men, women, etc.

The PERSONAL Test

Do you believe you can effectively grow in your faith and worship the Lord at this church?

Did you like the pastor and the people?

Were the people friendly to you and your family?

Was the experience at the church enjoyable, encouraging, and challenging?

Is the church near enough to your home that you would be willing to go there multiple times per week?

Would you be willing to invite your friends to a church like this one?

Although personal opinions aren't the most important thing in the world, they do matter. If you don't like a church, you probably won't attend as often and won't be as committed to its vision and its leadership. You need to find a place where you can grow, develop personal friendships with people, love the pastor, and be faithful in attendance.
Although the initial search for the right church can be frustrating and may take some time, it will pay off greatly in the end. Church attendance and involvement adds such an exciting and dynamic aspect to your personal, family, and spiritual life. It provides a place of rest and refuge when you are facing pressures and temptations, a place of encouragement when you are down and out, a place of hope and help when you are in need, a place of learning and instruction to help you become the person God wants you to be, and a place to find lifelong relationships with people that can love and befriend you. The church is like a family...a wonderful family at that!

Sure, no church is perfect, just as no family is perfect. But if you discipline yourself to go often, and make room in your schedule for God, you will be glad you did. Nothing is more precious and valuable and fulfilling than to worship the Lord with fellow Christians, to see your children brought up in learning about Jesus, to spend your time doing things that will count for eternity. May the Lord bless you in your search for a church body to call your own!

Prayer: Lord, I need your help in searching for the right church. I know I need to find a place that I can regularly learn your Word and worship you. I want to find a place that You approve of, that will help my family and I grow in you, and that I can invest my time and life into for Your glory. Help me find a place where I can serve You most effectively. Please guide me in my search! In Jesus Name, Amen.





Email Us